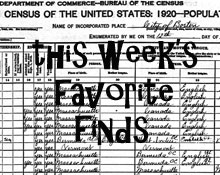 I hope that everyone had a very wonderful Thanksgiving!!  We had a beautiful dinner at home with friends from Estonia and Slovakia.   We got to introduce them to our wonderful American holiday.
I was short on blog posts this past week – busy teaching an ESL class, homeschooling the kids, trying to clean the house for guests, taking pictures for 3 different families, and working on my brother-in-law's family tree.  Fun, fun, fun!
Here are this week's favorite finds….
Happy Blogiversary to Caroline over at Caro's Family Chronicles.  Her blog turned one. 🙂
I enjoyed Creative Gene's post entitled Plan to be Remembered, Revisited.

I think I'm going to try to jump in on the Surname Saturday Meme over at Destination: Austin Family.  Sounds like a great idea!  I"m a bit late, but better late than never, right?
I love family heirlooms and can't wait to have a permanent home to display them in (my husband will eventually HAVE to get out of the Army, right?).  Sue, over at Frustrated Genealogist posted about one of her heirlooms – a tea seat.
Remember that there will be NO Geneabloggers radio show tonight.  Take a break and enjoy your family!
Well said Cherie.  I loved her post Happy Black Friday over at Have You Seen My Roots?
Photo Story: Changes and WWII Begins is a great post over at Heritage Zen.
Heather Kuhn Roelker  has some treasures in her great-grandparents many photographs.  It's nice to see them doing day-to-day things instead of just posed family photos.  I wish I had some like this among my collection.
And a few pictures from this past week…