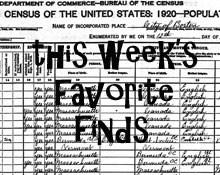 We had a nice weekend.  We attended the Amigo Airsho here on post. I took tons of pictures of airplanes.
Monday night, I was hit with a horrible cold.  An I-can't-get-out-of-bed cold.  I've had way too much computer time since I haven't felt like moving.  I'm gradually getting better and I'm keeping my fingers crossed that it doesn't pass to the rest of the family.  I am forcing myself to be well this weekend as I take the kids to various Halloween activities.
Oh, and I  had another cousin find me this week – a Norwegian cousin.   I love it when people find me! Keep on googling….

Well, on to this week's favorite finds…
And of course, I have to share a few pictures I took this past week: