My Pottgen and Thornton ancestors lived in Alton, Illinois, which is just North and across the river from St. Louis, Missouri.
Louisa Mary Pottgen was born in Alton on 30 July 1836 (this still remains to be proven by me, because I don't have a birth record).  Her parents, Francis and Sophia (Ross) Pottgen were immigrants from Germany.  Louisa married James Patrick Thornton, an Irish immigrant, in the early 1850's.  They moved to Nebraska probably in the late 1870's.
Here is a little history of this town that they spent a good deal of their lives in (the majority of this is from Wikipedia)…
Alton was founded in 1818 by Rufus Easton, and was named after his son.  Easton ran a ferryboat service from Alton to Missouri.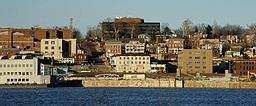 It became an important town for abolitionists, since Illinois was a free state and just across the river from Missouri, a slave state. Escaped slaves would cross the river and look for shelter in Alton before moving on to safer places. There were many stations on the Underground Railroad in this little city. You can read more about it here.
On November 7, 1837, the abolitionist printer, Reverend Lovejoy, was murdered by a pro-slavery mob while he was trying to protect his press. Lovejoy became the first martyr of the abolitionist movement.
The Alton and Sangamon Railroad was chartered in 1847 and finished in 1852.  It had service from Alton to Springfield and eventually to Chicago.
On October 15, 1858, Alton was the site of the seventh and final debate between Abraham Lincoln and Stephen Douglas.  There were 5,000 people in attendance.  You can read the full transcript of this debate here.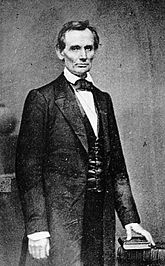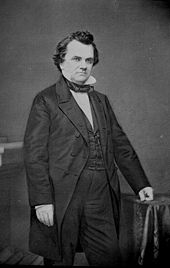 The first penitentiary in Illinois was in Alton, and during the Civil War, it was used to house close to 12,000 Confederate prisoners. Many of them died in a smallpox epidemic and are buried in a cemetery in town. You can actually search through records here to see if your Confederate ancestor was in the prison (they aren't complete).
And something fun (which has nothing to do with my ancestors since they didn't live in Alton in this same time period) – Robert Wadlow, the tallest human being, was from Alton.   There is a statue of him in town and a room dedicated to him at the local historical museum.
_________________________________________________________________________________________
I was able to make a very short, rushed visit to Alton last year.  I ended up finding my ancestors' gravestones, but didn't have time to stop for anything else, unfortunately.  I'm hoping to make a longer trip there in the future.
I had never really given much thought to the history of Alton before and how it may have affected my ancestors' lives.  I now have some questions I've been thinking about:
Did they moved to Alton because they were abolitionists?  Did they ever help escaped slaves? I know that this is a long shot, but with the large amount of abolitionist activity in the area, I have to wonder.
They were living in Alton in 1858.  Did they attend the Lincoln-Douglas debate?  How exciting!!
How were their daily lives during the Civil War?  Were they scared of having such an overcrowded prison in their town?  I know that Louisa Pottgen Thornton's brother, Henry Pottgen was killed during the War.  He had fought at Vicksburg, but ended up dying of chronic diarrhea – which I have noticed was quite common amongst the soldiers of this era.
 Did they travel to St. Louis very often?  It was only a ferryboat ride away.  Did they have family that lived there?  The majority of Pottgen names I've found in the US happen to be in the St. Louis area.  Makes me wonder.
James Thornton was a RR agent in 1870 in Alton.  Did the railroad bring him to Alton?