My great-grandfather, Theodore Francis Sanchez, was a barber by profession.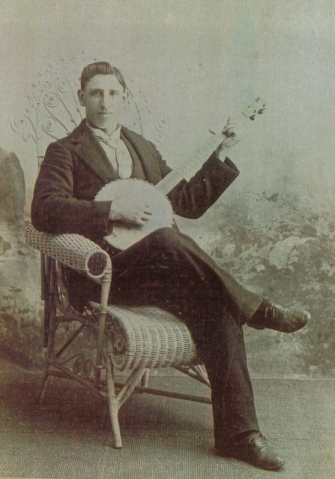 In the 1900 census, he was listed as a barber, living in Franklin, Renville County, Minnesota.
He was married the following year,and it was mentioned in his wedding announcement in the Franklin Tribune, dated March 22, 1901:
The groom is one of Franklin's most prominent young men.  He is one of the proprietors of the city barber shop and has always served the patrons of that popular institution in a manner satisfactory to all and with credit to himself.  He is a young man of and affable courteous disposition and has succeeded in making friends with all whom he has come in contact.
From the Franklin Tribune, dated 5 May 1905:
Theo. Sanchez, who for a couple of years conducted a barber shop in Boyd, moved his effects to this place last week.  Mr. Sanchez told The Tribune on Monday that he would open up a two chair shop in the building formerly occupied by Chas. Lahti.
In 1910, he was still working as a barber, but this time in Atwater, Minnesota.
According to his WWI Draft Registration, he was a barber on Main Street in Anoka, Minnesota in 1918.
In 1920, he was still a barber, but this time in Minneapolis.
By 1930, he was working as a floor finisher instead of a barber – in Seattle, WA.  I wonder why he changed professions.  Perhaps he couldn't find a shop of his own yet and needed to earn some money in the meantime.
My uncle told me that Theodore had a barber shop in Galvin, WA (near Centralia) and that the building is still standing.  He must have gone back to his true profession when he was able.
Since I don't have any pictures of him in his shop, I thought I'd share some barber items I found in the 1903 Sears & Roebuck catalog.