This was a laminated newspaper clipping found amongst Louise Weeks' papers. I am unsure as to the date/newspaper but it is most likely the local Lawrence, KS newspaper and Charles died Dec. 13, 1987, so it is most likely around that time period.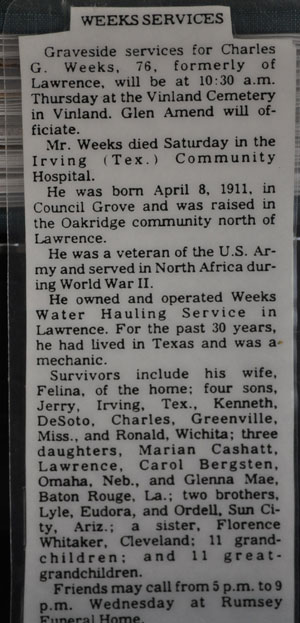 WEEKS SERVICES
Graveside services for Charles G. Weeks, 76, formerly of Lawrence, will be at 10:30 a.m. Thursday at the Vinland Cemetery in Vinland.  Glen Amend will officiate.
Mr. Weeks died Saturday in the Irving, (Tex.) Community Hospital.
He was born April 8, 1911, in Council Grove and was raised in the Oakridge community north of Lawrence.
He was a veteran of the U.S. Army and served in North Africa during World War II.
He owned and operated Weeks Water Hauling Service in Lawrence.  For the past 30 years, he had lived in Texas and was a mechanic.
Survivors include his wife, Felina, of the home; four sons, Jerry, Irving, Tex., Kenneth, DeSoto, Charles, Greenville, Miss. and Ronald, Wichita; three daughters, Marian Cashatt, Lawrence, Carol Bergsten, Omaha, Neb., and Glenna Mae, Baton rouge, La.; two brothers, Lyle, Eudora, and Ordell, Sun City, Ariz.; a sister, Florence Whitaker, Cleveland; 11 grandchildren; and 11 great-grandchildren.
Friends may call from 5 p.m. to 9 p.m. Wednesday at Rumsey Funeral Home.