My great-great grandfather, Lars Larson Bergman, died  on June 23, 1887 in Gavle, Sweden – one short month before his sixth child (my great grandfather) was born.
He was only 39 when he died and he left behind a family that needed him.  I was very curious as to what his cause of death was.
Was it some work-related accident or perhaps an epidemic going through town? Nope.
I don't speak Swedish, but between the help of some foreign friends and online translating, what I can came up with is this:
omöjligt (possible a different spelling since many of the spellings changed over the years) = impossible
förlamad, förlammat = paralyzed
starka drycker = strong drink
What does this mean when I put it all together?  I'm not exactly sure, but it looks like he became paralyzed from having drank too much.
Anyone have any different thoughts? Better yet, can you speak Swedish and correct me? 🙂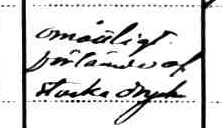 His death leaves a lot of questions for me.
He was a 39-year old man with 5 children and a pregnant wife.  What caused him to drink this much?
Was he sick?  Out of work?  Depressed? Did he have a nag for a wife?  Was he an alcoholic or was this a one-time episode of binge drinking?
I also wonder how his death changed the lives of those he left behind.  Did his wife have to find work?  His oldest son would have been 15 – did he have to support the family?
I have a lot of research to do on this branch of the family and I'm hoping that as I do that, I will be able to answer some of these questions.  The one thing holding me back right now is time.  I have to search page by page through the registers to find them in the household examinations and unlike many of my other Swedish ancestors, they actually lived in a city – and that means many more pages of searching.