Samuel and Nancy Lee were my 3rd great-grandparents on my father's side.
I love the two following records, both from 1846 in Franklin County, Virginia.
The first document is kind of like a "permission slip".  🙂  Nancy Glass gave permission for Samuel Lee to get a marriage license for their marriage.
There is also another message written below by Nancy's brother-in-law, Jacob Machenheimer.  He was married to Nancy's sister Patience.  Their father, John Glass, died in 1840 and now I know that Nancy was living with her sister at the time of her marriage and that her brother-in-law was responsible for her.  He also gave his permission for the marriage license and apologized that he couldn't ride to town at the time.  {on a side note, I wonder why he couldn't ride to town – was he injured or sick or just busy?}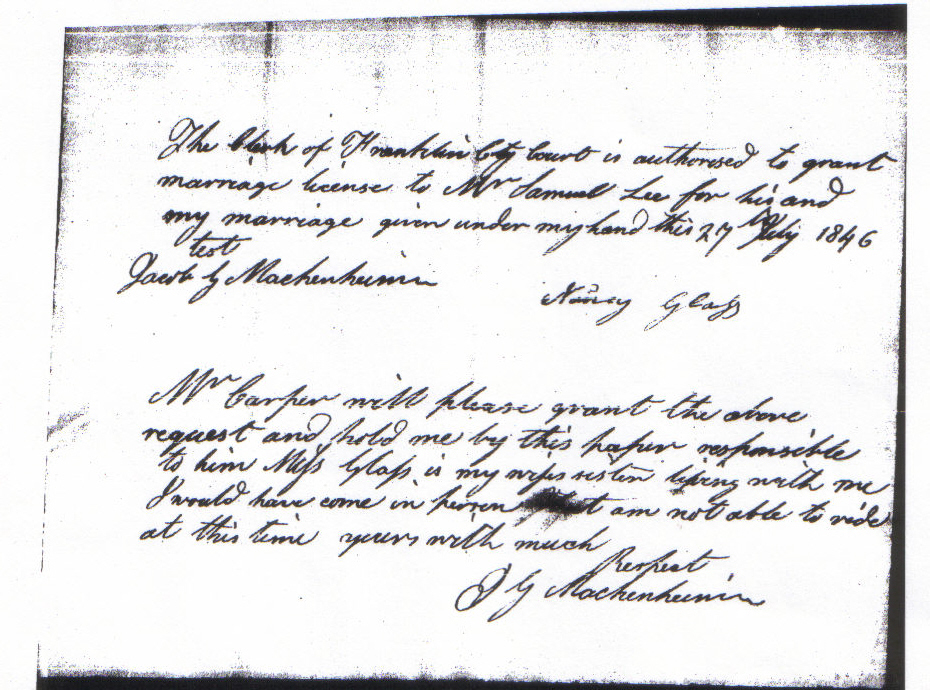 Transcription:
The Clerk of Franklin Cty Court is authorized to grant marriage license to Mr Samuel Lee for his and my marriage given under my hand this 27 July 1846
test  Jacob G Machenheimer         Nancy Glass
And here is the second document, giving surety…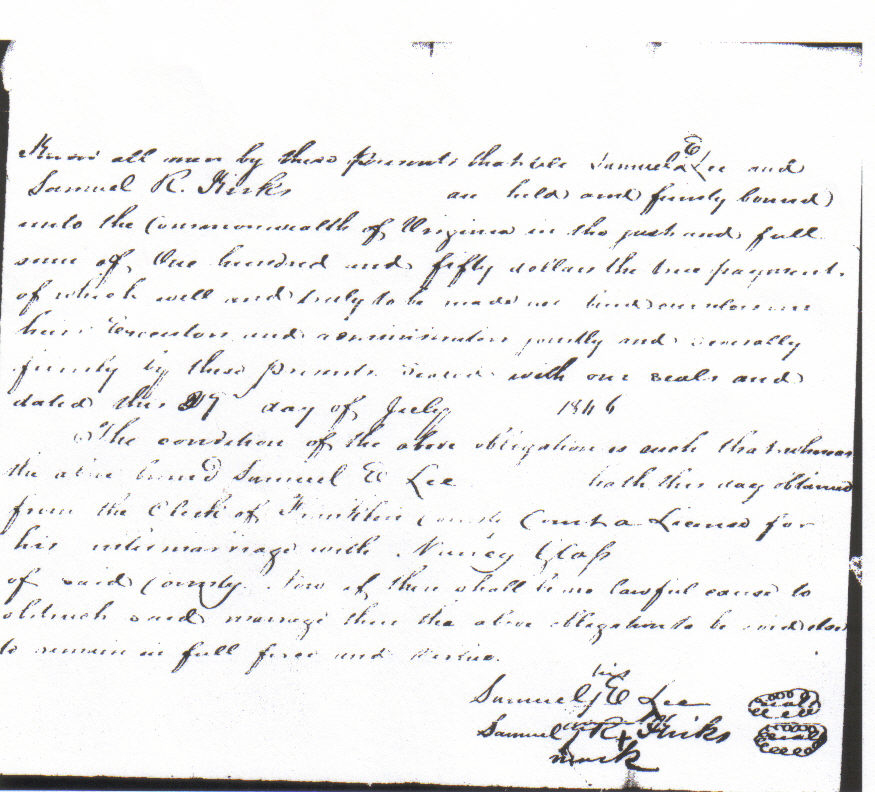 Transcription:
Know all men by these presents that we Samuel E. Lee and Samuel R. Kirks are held and finally bound unto the Commonwealth of Virginia in the just and full sum of One hundred and fifty dollars the … payment of which will and only to be made … Executors and … jointly and … and dated the 29 day of July 1846.
The condition of the above obligation is such that … the above bound Samuel E. Lee hath this day obtained from the clerk of Franklin County Court a License for his intermarriage with Nancy Glass of said County. Now if there shall be no lawful cause to obstruct said marriage then the above obligation to be paid else to remain in full free and …
Samuel E. Lee (his mark) [seal]
Samuel R. Kirks [seal]
{It's late at night and I'm squinting as I try to transcribe this. I'm hoping that I can fill in some of the above blanks during the day. :)}