Nicholas Van Cossaboon was my husband's great grandfather.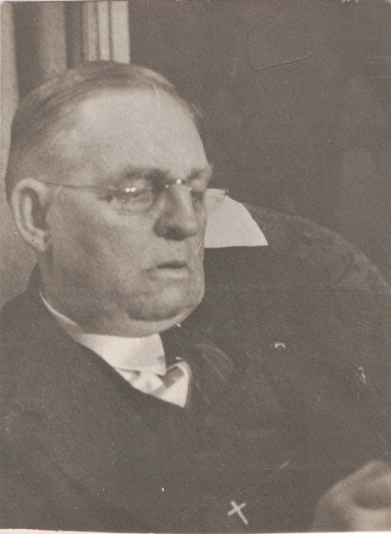 His obituary was in the Wyoming County Times, Wyoming County, NY, dated 7 July 1949.
Retired Methodist Minister Died at Silver Lake
The Rev. Nicholas Van Cossaboon, 72, Methodist clergyman for 41 years, who retired only a month ago, died unexpectedly at his cottage at Silver Lake last Saturday, July 2nd.
His death occurred one month after his retirement from the ministry. During the last eight years, he had been pastor of the Silver Springs Methodist church. Recognition of his 41 years in the ministry was paid last month at the annual meeting of the Genesee Conference at Asbury-Delaware Church in Buffalo.
He was honored this spring at a testamonial dinner given by members of the Silver Springs congregation.  Bishop W. Earl Leden of the Syracuse area of the Methodist church, who had once been a Sunday school pupil of the retiring minister, was the principal speaker.
He had held a number of pastates in Western New York, including ones at Woodhull, Sardinia, Ellicottville, Salamanca, Depew, Buffalo, Lockport, Marilla, Middleport, Addison, and Silver Springs, where he was located at the time of his retirement.
He was born at Winslow, N.J. , October 4, 1877 and on February 9, 1901 married Lillian Pierce, who survives him.
He also leaves four daughters, Mrs. John Dull and Mrs. William Johnson of Buffalo; Mrs. Elsie Woods of Lockport and Miss Ruth Van Cossaboon of Middletown, Pa.; a brother Loveman Van Cossaboon of Camden, N.J.; two sisters, Mrs. Edward Cottrell of Glassboro, N.J. and Mrs. Mary Woodruff of Monroeville, N.J. ; four grandchildren and two great-grandchildren.
The Rev. Mr. Van Cossaboon was a member of the Masonic lodge at Castile, the East Aurora Capter R.A.M., of the Buffalo Consistory, and Ismaila Temple of the Shrine, Buffalo.
Bishop W. Earl Leden of Syracuse, officiated at the funearl services which were conducted at the Silver Springs Methodist church at 1:00 p.m. Tuesday.  Assisting him were the Rev. Harold Hewiit, former district superintendent of the Methodist church, now pastor of the East Aurora church; the Rev. Charles Boellinger, present district superintendent, and the Rev. Homer Evans, pastor of the Silver Springs church. The burial was in Acacia Park cemetery, Tonawanda, at 4:00 p.m. with Masonic services at the grave.
The organist was Kenneth Motts and the bearers were Norman Tallman, Robert Humphrey, Elmer Gardner, Edwin Chase, Clayton Husted, and Frank Granger.