Some more great  newspaper finds from FultonHistory.com!!!
Ruth Cossaboon was my husband's great aunt and from what I've heard she was quite the lady. 🙂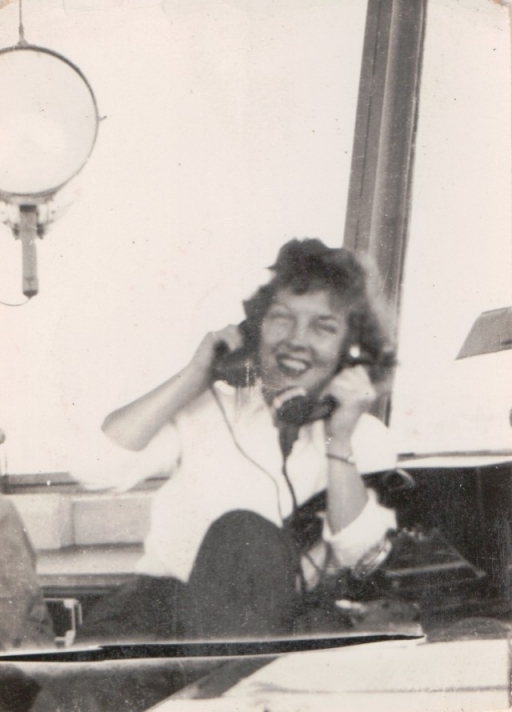 I found a few newspaper articles about her service during WWII that I thought I'd share today.
From the Perry Herald, Perry, NY, Wednesday, June 16, 1943.
MISS COSSABOON NOW U.S. MARINE
Miss Ruth Cossaboon, daughter of the Rev. and Mrs. Van Cossaboon, has enlisted in the Marine Corps.  Sworn in at New York City last week, she is now on the reserve list awaiting call to active service service in a few weeks.  She expects to receive her basic training at the Marine base, New River, N.C.  By an odd coincidence, Miss Cossaboon is the only Marine of the hundred-odd local men and women now in service, as far as is known.  One other member of the Marine Corps, Pvt., Edward Courtney, was killed in an auto wreck early in the war.
This is from the Wyoming County Times, Warsaw, NY, Thursday, July 22, 1943, Page 4
FIRST SILVER SPRINGS LADY TO LEAVE FOR SERVICE IN THE MARINES
Tuesday evening Agnes Baker's restaurant was the scene of another Citizen's Sendoff supper to honor Miss Ruth E. Cossaboon, daughter of Rev. and Mr. N. Van Cossaboon, who will leave soon for service in the Marines, and Robert W. Fagan, who leaves the 21st of July for service and he will report to Camp Upton, L.I.
After a large company of relatives and friends had enjoyed the supper, and the usual short speeches were given and the Testaments and Legion literature were presented to Miss Cossaboon and Mr. Fagan, a short time was spent in wishing them the best of luck and a speedy return.
Perry Herald, Perry, NY, November 10, 1943:
Cpl. Ruth Cossaboon is spending a few days with her parents, Rev. and Mrs. N. V. Cossaboon. Cpl. Ruth who recently graduated from the Air Control School in Atlanta, Ga., has been assigned to tower control duty at Edenton, N.C.
Perry Record, Perry NY, March 15, 1945:
Rev. and Mrs. N. Van Cossaboon have received word that their daughter, Cpt. Ruth Cossaboon , has been transferred from Edenton, N.C. to the Marine Base at Quantico, Va, where she is an Air Control operator.
Perry Record, Perry, NY, February 28, 1946:
Air Control Operator
Miss Ruth Cossaboon, daughter of Rev. and Mrs. N. Van Cossaboon, has accepted a position as air control operator at the army airport near Harrisburg, Pa. This is a large transport center and friends of Miss Cossaboon wish her much luck in her new position. Miss Cossaboon has recently received her honorable discharge from the armed forces.