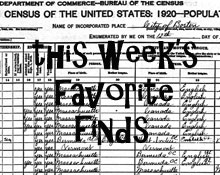 I have to admit that I"m really dragging this week.  Struggling to keep my eyes open all day long.
I'm not exactly sure why I'm so exhausted – and NO I'm not pregnant. 🙂
I think that it has something to do with my kids being in VBS every morning this week.  You would think it would be a nice break for me (and it is), but it means that I have to get them all up and dressed and fed every morning and out the door and down the road in order to enjoy three hours of peace and quiet.
You can tell we are homeschoolers, because we're not used to the out the door in the morning thing. 🙂
Besides being gone a lot this week, I've also been spending every waking minute at home preparing this year's school lessons.  It is so time consuming, but it must be done.  I have to be organized and prepared so that I can be on auto-pilot during the school  year.
I will be back to regular posts within the next week or two – as long as I can get all of this done.
Well, enough of my explanations, and on to this week's favorite finds…
And now I'm back to entering in lesson plans…….