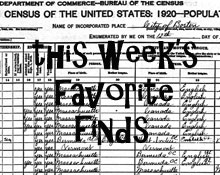 This has been a great geneaweek for me.  I had a couple of distant cousins contact me.  I joined Google+ and am connecting with other genies.  I attended the El Paso Genealogical Society's meeting for the first time.  I also worked on some of my 2nd great-grandfather's siblings – some of the stuff that I initially overlooked.
I'm writing this post Thursday night, as I'm waiting to head to the movie theater for the new Harry Potter flick.  Yes, I'm taking my daughter to the midnight show.  I think I'm going to need massive amounts of caffeine to make it through!!

Now, on to my favorite finds this week…
My cousin Wendy at Shaking Leaves posted a wonderful poem, entitled How Young James Brittain Died,  that Harmon Parks Brittain wrote about his young brother dying in the Civil War.  It is heartbreaking.  My great-great grandmother, Mathilda Jane Brittain, was also this man's first cousin.
I love the idea of having a "learning log" where you keep track of all of the educational courses, webinars, etc. that you take.  Thank you Geniaus for this fabulous idea!!
Don't forget to meet up for tonight's Geneabloggers Radio show.  Tonight's topic is "Cool Ideas for Involving Youth In Genealogy".  I love kids and genealogy, so I'm excited about this edition! Also, check my archives for the series of "Genealogy for Kids" posts I wrote over these past two weeks.
Joan over at Luxegen Genealogy had a great post "Family Oral History".  I really want to record more family stories, because I never seem to remember the details correctly.  I don't want my family history stories to turn into one giant game of telephone.
Heather Wilkinson Rojo of Nutfield Genealogy passed the 600 post mark.  Congrats!  I love her blog books too.  I've been meaning to do that for a very long time, but like many other things, I haven't gotten around to it.  I hope it's not a completely unmanageable job by the time I get around to it!
I loved the heritage pie chart that Sheri over the Educated Genealogist created.  I'll have to make one of those this week.
I enjoyed Randy Seaver's "My Research Problem Solution Advice".  It's easy to get stuck and not see some of the simple searches that you've overlooked.
The whole Geneablogging community is talking about Google+.  Have you joined yet?  I'm on there – look me up.