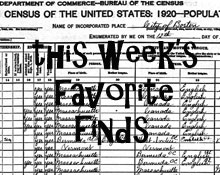 There was a lot of good genealogy reading out there this week…
I loved Thomas' post about getting younger people involved with genealogy. I am forever thankful that I started when I was 23.  Twelve years later and I"m still considered relatively young in the genealogy world. 🙂  I am very enthusiastic about getting younger people interested and involved in family history research.  How old were you when you started??
Have you ever seen a photo like this before?  Shelley over at A Sense of Family has a very interesting, colorful photo she's trying to identify.
Yes, Cherie from Have You Seen My Roots? is extremely lucky to have been given a scrapbook filled with newspaper clippings. Why didn't anyone in my family do that?? 🙂
I loved Heather Roelker's post (Not My) Treasure Chest Thursday: "The Bride's Book" for Betty and Charles. I always love looking at old photo albums in antique stores also – even if they have no connection to me.  I feel like they are a mystery waiting to be solved.
Do you have a list of favorite names of your ancestors?  Colleen over at Leaves & Branches posted some of hers.  I personally always love it when one of my ancestors has an UNUSUAL name.  It makes life so much easier.  I can't say that  John Robertson or John Edwards or Thomas Woods are among my favorites, that's for sure. 🙂 I I think that my personal favorite is Nicanor Gonzalo Sanchez-Tereso.  He actually lived in Germany for a number of years.  Sanchez-Tereso's in Germany are going to be much easier to find than Schmidts or Beckers. 🙂  What are some of your favorite names or your ancestors?
Susan over at Nolichucky Roots got to do some research in the National Archives.  I'm so jealous!  I was glad to hear about her experience – because I will make it there someday!
Head over to The Accidental Genealogist and wish Lisa a very happy 5th Blogiversary.  Yes, I said fifth!!!
I'm sure many of you read 7 Reasons The Zombie Apocalypse Would Be Good for Genealogists over at Clue Wagon. Hilarious and oh so true!  If you didn't read it yet, click over there for a good laugh.
I hope that everyone has a very wonderful, relaxing Fourth of July weekend. Happy Hunting!! 🙂