I hate to say it, but this is not a very exciting will.  It's pretty plain and to the point.  Have you ever heard a will that started with "To whom it may concern"?  I am  still (of course) happy to have a copy of it – simple as it is.  Ari Austin Agee was my great-great grandfather.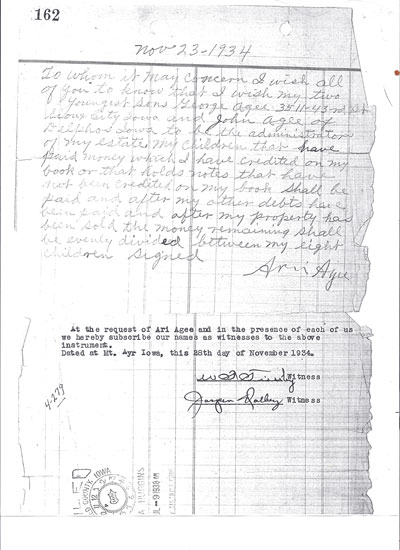 Nov 23 – 1934
To whom it may concern I wish all of you to know that I wish my two youngest sons George Agee 3511 – 43rd St Sioux City Iowa and John Agee of Delphos Iowa to be the administrators of my estate. My children that have paid money which I have credited on my book or that holds notes that have not been credited on my book shall be paid and after my other debts have been paid and after my property has been sold the money remaining shall be evenly divided between my eight children signed
Ari Agee
At the request of Ari Agee and in the presence of us we hereby subscribe our names as witnesses to the above instrument.
Dated at Mt. Ayr Iowa, this 28th day of November 1934.
W. T T____  Witness
Jorgsen Dolbey Witness
And here also is the Certificate of Proof of Will: