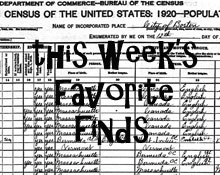 The movers came and I have STUFF again!!!  I can sit on a couch and sleep in a bed and eat at a table and wash my dirty clothes.  I no longer feel like I'm camping inside. 🙂  I am going to be super busy this week getting everything unpacked and set up – and catching up on my sleep.  Our blow up bed died and I spent the last two nights ON THE FLOOR.  Did I mention that we don't have any carpeting??  Yeah, I'm exhausted.  Well, I still wanted to share some of my favorite finds from this week, so here they are…
I've been enjoying reading through posts at A Hundred Years Ago.  Oh, how I wish that I had one of my ancestors' journals!!  To get a peek into their daily lives is so exciting.  Here you can read about the camera her grandmother bought.
I love Kerry Scott's post "Your House is On Fire". What family heirloom would you grab? (after everyone was safely out of course).   I think that I would probably take the rocking chair that my husband's great-grandparents rocked all of their babies and grandbabies and great-grandbabies in. 🙂
The 106th edition of the Carnival of Genealogy is out over at Creative Gene.  I just love looking at old swimsuits and wondering how on earth they comfortably moved in some of those things!  Also, the call for submissions for the next carnival is out.  The theme is "the seasons of genealogy" and Bill West of West in New England will be hosting next time around.
I love Anita of Family Tree Rings' post "Favorite Wedding Dress".  Do you have a favorite?  I honestly don't have that many old wedding photos.  I don't have a wedding picture from any of my grandparents or great-grandparents.  Is that strange??
Family Tree Magazines has a new list of the 101 Best Websites.  I'm looking forward to perusing it once I have some free time.
I have to say that I'm thankful to Ancestry for updating their iPhone app.  I have had the app on my phone for over a year, but was never able to use it, because my tree was too large.  They fixed this problem!!  The first time I opened it, it took a couple of hours to get my tree open, but since then I've been able to open it easily!  It can in handy when I was doing research in Iowa a few weeks ago.