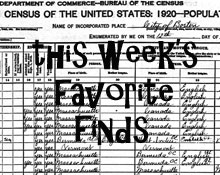 I have a home again!  It's empty, but it's a home.  I now have one week of sleeping on a blow-up bed, sitting on a folding chair, and eating off of paper plates.
I. can't. wait. to. see. my. own. bed. again.
I am so miserably tired and sore right now from the blow-up bed.  Those things are evil.
Besides sleeping in my own bed again, I'm really looking forward to having a workspace, scanner, printer and my filing cabinet full of genealogical stuff.  I feel lost without it all.
On another note, my aunt's friend asked me to do a little research for her this week and I really enjoyed starting with a fresh family that I knew nothing about and seeing what I could find on it.  It makes me think more and more that I really want to pursue certification.  Things to think about….
Well, on to my favorite finds of this week…..
Marian Wood over at my "twin" blog Climbing My Family Tree had a great post about "Ancestor Hunting on Gen Blogs".  I have to admit that I've never used quotation marks when doing a search. I'm starting to think that I should really read Google Your Family Tree, because there are clearly so many little things that I don't know.  I have quite a few distant cousins that contact me when they stumble upon my blog, but I can't say that I've been very good at searching blogs myself.
I feel Greta's pain.  I have "junk in my yard" too.
Liz had a great post about Second Life and its uses for genealogy.  The Sims do genealogy??  It sounds like fun.  I think I might have to join up on this one – once things have settled down here.
Congrats to Ginger and Linda, whom I met at NGS.  They will be "official bloggers" for the upcoming FGS Conference.  I really want to go, but it's not going to happen this year.  Andy will be in classes in September and I have no hopes of a babysitter for five kids for a week. 
I loved this post over at Lineagekeeper's Genealogy about rescuing flowers from old ancestral homes.
I might be kind of scarce in the next couple of weeks.  I have a feeling that getting the house set up is going to take up the majority of my time.