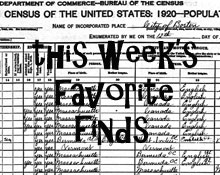 I'm still in Slow-Speed Internet Land and have been spending lots of great time with family, so I haven't done quite as much blog reading as normal.  Honestly, I'm horribly behind.  I did finally download a blog reader for my iPhone though, so hopefully I can start getting caught up when I have a spare moment or two.
I am going to have to postpone my "Shopping Through The Ages" series until I get to my new home.  I just don't have the internet capabilities here to quickly browse the catalog. 🙁
We will be heading to El Paso this weekend and getting the keys to our new home on Wednesday. Another week after that and our stuff will show up. Then I'll be knee deep in moving boxes for a while until I can get our house set up properly. One thing that I will make sure I have this time is a great workspace – just for me!
I talked my wonderful husband into taking another "quick" trip up to Iowa for a day of research earlier this week. I had some great finds, which I will be posting about in coming weeks. I really appreciate his support. 🙂 Do your family members humor you and happily stop at courthouses and cemeteries while you're on vacation?
I wanted to give a quick shout out and thank you to Bruce Buzbee of Roots Magic.  He heard Ellie and me on the Geneabloggers radio show last week and asked Ellie if she'd like a copy of RootsMagic.  She jumped at the chance for free software and was so ecstatic to get not only the basic program software, but also a user's manual, Personal Historian and Family Atlas!!  I was quite jealous. 🙂  She has already installed all of them on her laptop and started entering in some information.  I decided that I'm not going to give her my gedcom to open – at least not at first. I'm going to make her start a bit on her own so that she can get a feel for some basic research.  I think she'll like the challenge. 🙂
Here are a few of my favorite finds this week.