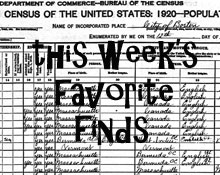 Well, all of my worldly possessions have been boxed up and are being put onto a truck and driven to El Paso today.  I could care less if my TV breaks or my shoes get lost.  I'm praying that all of my genealogy documents and pictures make it though.  It always makes me nervous having to transport them across the country.
Oh, and that reminds me, I need to add the dates we lived here in Savannah to Legacy (only 11 months by the way!!).  I always wondered why my ancestors moved around so much and wished that I had exact dates for when they were at different places.  I've since realized that it's hard for me to remember when we've moved from place to place over the past 12 years we've been married (this is move #6).  I've since started keeping track of that for my own descendants (and for myself!). 🙂
You would think that I was super busy this week with preparing for the move and that I didn't have any time to surf the internet.  I was busy earlier this week, but as our things were being packed up these past two days, I kept out the way (with the kids) and let Andy handle dealing with the movers.  I took the kids to a place called "Monkey Joe's" yesterday and blissfully sat on my laptop for three and a half hours while the kids bounced and played and ate pizza until they collapsed.
Here are some of my favorite finds this week: