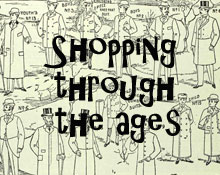 I've been perusing the Sears, Roebuck & Co. catalog again.  I just can't help myself.  I've decided to start a weekly post about neat things I find each year as I "shop through the ages".
I love seeing things that my ancestors may have bought.  Some seem silly, but then again – have you ever seen the stuff they sell on infomercials at night??  Times haven't changed that much, have they?
This week, I am highlighting the 1896 Spring Catalog.  Come shopping with me. 🙂
A combination child's carriage and chair. This looks like quite the contraption!  Being a mother, I can appreciate how nice it is to have your baby tied down for a bit.  I'm only partially kidding.  There are so many things for them to get into!  And this is the age before the exersaucer – and Cheerios (Or maybe not.  I don't know how long Cheerios have been around).  Anyway, the chair actually lowers and the wheels come out.  You can then push your baby around the house.  I don't know that it would be appropriate for outside though.  The wheels look a bit tipsy to me.
"Delay is dangerous when bargains like this are flying around".  I love the ad campaign to sell this couch, which is billed as "The Greatest Thing in The World". 
How about a telephone?  I'd love to have one of these antiques someday.
Or a "concert roller organ"?  I wonder what the quality of the music this produced was.
A "Scholar's Companion" whatever that is.  I couldn't quite figure it out.  Is it a small safe to lock your special possessions inside? Any ideas?
What about a full beard – or maybe just a goatee?  These couldn't have looked real.  Why on earth would someone have needed these?  Maybe for a play?  I can't imagine someone actually walking around town in one of these – even if you spent the extra money for the "ventilated" version.
Anybody up for a board game?  How about "The Rival Doctors"? It is the "race for a rich patient by the doctors of a country village". 
Maybe you're in the market for a new hat.  Doesn't this one look comfortable?
What kid wouldn't want to wear this?  Doesn't exactly make you want to run outside and climb a tree, does it?
I have to admit that after having nursed 5 babies myself, I have often wondered how on earth women could possibly feed their babies when they were wearing a corset. I could imagine some very hungry, screaming infants out there, waiting for their moms to "get to the food" so to speak.  Apparently, they had nursing corsets!  Really!
Don't slouch around your mom.  She might make you wear one of these shoulder braces! "A Cure for Round Shoulders".
I can't imagine living without a full bathroom in the house. I suppose if you have to have a "toilet set" though, it might as well be pretty. It lists the different pieces included in the set.  Does anyone know what the difference between a chamber and a slop jar are?  Just curious.  I'm sure that neither had a very nice function.
Could you see yourself cruising around the neighborhood on this? I would imagine that you'd end up pushing it more than actually riding.
What's that you said? Huh?  Still can't hear you, Sonny!
Wow, cameras have come a long way! 
And I'll leave you with this: a picture of a full dining room from 1896.
See you next time, when we shop through 1897!