Olga was born the 6th of 10 known children of Carl Magnus Klarström and Christina Elisabeth Bennberg, on 29 April 1877 in Älvkarleby, Uppsala, Sweden.  Älvkarleby is near Gävle, on the Eastern coast of Sweden.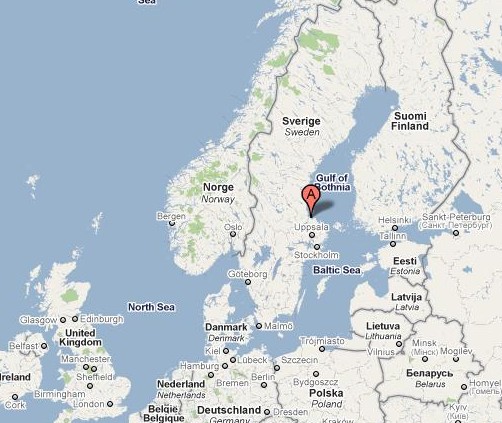 As I looked at the birth record a little closer, I noticed the word "Skutskar".

I found Skutskar using Google Maps. I love the internet. 🙂 It is a town just north of Alvkarleby.  I couldn't seem to decipher first word though.   I figured out that the Gifta 1868 means that her parents were married in 1868.  I believe that Klamparen is her father's occupation and he must have worked in Skutskar.  That's my educated guess since I saw it on a number of her siblings birth records also.  I tried looking up Klamparen in the dictionary, but was unable to find it.  Luckily, I posted a question on Genealogy Wise and someone quickly replied that "a  klampare is a person, who works in the sawmill and sorts pieces of wood which are cut out in different shapes and sizes."  So, Carl Klarstrom worked at a sawmill.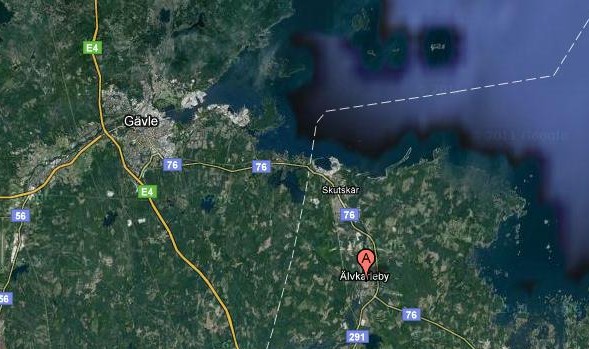 The Klarstrom family moved to Lenhovda in 1885, to Alem in 1889, and to Gavle in 1890. Olga's father Carl died in Gavle in 1890.
Olga left Sweden in 1892 at the age of 15, heading for Boston.  I know that two of her older sisters, Maria and Christina were both married and living in Boston already.  Perhaps she went to live with one of them.
I have included the two people next to her on the passenger list out of Goteborg.  I don't recognize their names, but they were both also headed to Boston and one was from Lenhovda and the other from Alvkarleby – both places that her family had lived before Gavle.  Could they be friends or cousins of some sort?

I then found her again traveling from Sweden to America in 1898. I'm not sure if she was simply visiting on her first trip over. Maybe she worked for a while and then returned home. I don't know. But this time, she was traveling with her younger sister Klara, who was only 13. They were both listed as servants.


In the 1900 census, Olga was living at 637 Dudley Street in Boston, as a servant to George Bartlett, a widower and his single daughter. She was the only servant in the household.  I wonder if it was lonely being a solitary servant.  Was her work hard?  Did she have time off to visit with her sisters?
By the 1910 census, she had found a new position.  She was living on Fairfield Street in Boston and working as a maid to an architect, Francis R. Allen and his wife.  There were 3 other servants living in the house, so she appears to have had company. 🙂
I did a little searching and found that Francis R. Allen was quite a famous architect during that time period. I wonder if he gave lavish parties that she had to work at.
She left America again in June of 1910 and returned in November of the same year, this time with her mother, Christina (Bennberg) Klarstrom.  Was her mother coming to visit or work?  I am not sure how long she stayed. Olga was listed as a dressmaker this time.

I then found her in another arrival list in 1912.  She had been in Sweden again.  It stated that her last permanent residence was in Beverly Farms, MA – north of Boston.

It also stated that she was headed to Woods Hole, MA – which is quite a ways south of Boston.

It looks like she was moving around from one position to another quite a bit.  Was this normal for a servant of this time period?  I guess I envisioned servants staying with one family for years and years.  I have a feeling that part of the reason she continued to find new positions, was that she made frequent trips back to Sweden.  I was unable to find her in the 1920 census – perhaps she was in Sweden again.
I found her leaving New York for Sweden in 1923.  Her residence was listed as Springvale, Connecticut.

She returned to America in October of that same year.  This time, she was listed as a "sick nurse" and she was heading to Boston.
In 1924, she signed her Declaration of Intent.  At the time, she was living at 1125 Lexington Avenue in New York City – a few blocks from Central Park.  She was listed as a trained nurse.

She was naturalized in 1928. In 1928, she was living at "The Caravela" in Cohasset, Massachusetts.

In the 1930 census, she was living at the Woodward Hotel on West 55th Street in Manhatten.  From what I gather, the building is still standing, but it is now called "The Dream Hotel".  She was listed as a nurse at the hotel.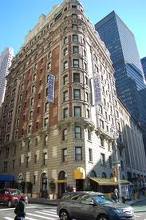 (the picture found while I was searching Google Maps)

In 1936, she arrived in New York from Sweden yet again.  This time she was living at 14 Perham Street in West Roxbury, MA.

And lastly, I found her in the Social Security Death Index.  It stated that she died25 May 1970 in Norwood, Norfolk, Massachusetts.
As far as I can gather, she never married and never had any children.  She obviously did a lot of traveling back and forth between Sweden and MA/NY.  I wonder if she ever went to visit my great-grandmother (her sister) in Seattle.