Christina Josefina Klarström was the second child of Carl Magnus Klarström and Christina Elisabeth Bennberg.
My last post was about her older sister, Maria Ottilia, who was born in 1865.
Christina Josefina was born 15 July 1868 in Gävle, Sweden.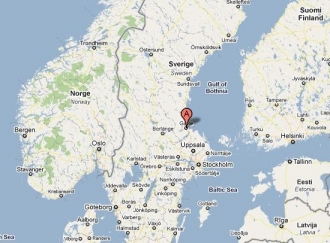 Her parents were married one month before her birth. Perhaps they decided since they were about to have their second child, it was finally time to tie the knot.   Here is her birth record:

In 1869, a devastating fire hit Gävle.  It's no surprise that family moved to nearby Alvkarleby in 1870.  They stayed there for about 16 years.
In 1883, Christina Josefina's older sister Maria left for America.  I'm sure that she wrote letters home, telling of her adventures in Boston.  Her siblings must have been very excited to hear of her new life.
In 1885, the family moved again, this time to Lenhovda, Kronoberg, Sweden.  It is quite a ways from where they were living near Gavle.  This time, I really have no idea what prompted such a big move. You can see in the map below, how are they are from each other.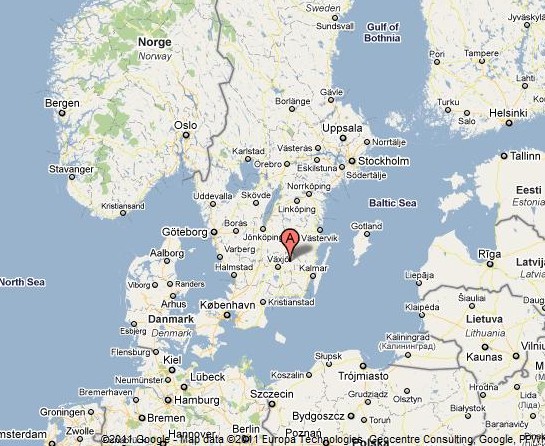 Christina Josefina didn't live there for long though.  She followed in her older sister's footsteps and left for America in 1887.  The passenger list from the SS Cephalonia listed her as a servant. It seems like there were many Swedish servants in the Boston area.

In any case, she only worked for a few years, because on 2 Mar 1890, she married Anton S. Jensen in Boston.  He was a native of Denmark and a barber by trade. He appears to have had his own shop.
Anton was naturalized in 1893:

They moved to Everett, Middlesex, Massachusetts – just north of Boston, where I was easily able to find them in the 1900-1930 census records.  They lived on Ferry Street for a number of years.

They had one son, Arthur H. Jensen, who sadly didn't live for very long.  He was born 2 Feb 1891 and died 2 May 1891.  His death record didn't state what happened, but it must have been a very sad time for this couple.
I found Christina Josefina on a passenger list for the SS Cephalonia (the same ship she had originally traveled on), which arrived in Boston from Liverpool in 1894.  No doubt, she was returning home after visiting her family in Sweden.
I found a picture of the SS Cephalonia at Norway-Heritage.  The site also has an entire timeline of the ship's departures and arrivals – and those of many other ships too.

The most common route that my ancestors seem to have taken in their travels was : Goteborg, Sweden to Hull, England, then they would have to go across land to Liverpool, and then sail on to Boston or New York.  It must have been quite the trip!  I'm wondering how long she stayed to visit.
Anton and Josefina did end up having another child after the loss of their first baby. Flora E. Jensen was born about 1907.
After the 1930 census, I have lost the trail.