I will be spending today in a sea of green.  I don't care for crowds, but we're only living in Savannah for one year and I can't miss the humongous St. Patrick's Day parade that they put on here. The fountains and river will be dyed green.  It should be quite a sight to see!
I am very proud of my Irish ancestry.  I thought I would highlight my 3rd great-grandparents, the O'Connors.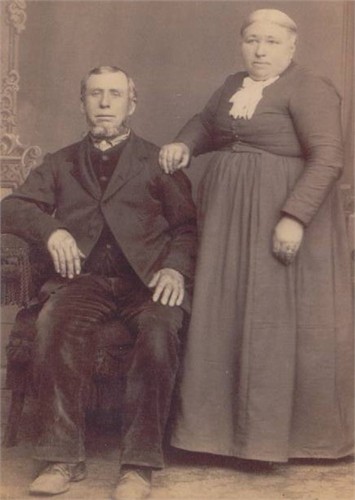 Patrick O'Connor was born in County Cork, Ireland in about 1830-1832.  According to family history, his wife Mary Denahy was the first to immigrate to the United States.  She was pregnant at the time and was sent to Dubuque, Iowa to work at a monastery.  I still have no information on their marriage, so I don't know if she was married before she left or not.  I thought that it would be odd for her to have been sent to a monastery if she were married. Another mystery to solve.  Anyway, according to family history, she sent money and he was supposed to follow.  He spent the money and she had to send more.  He did eventually make it to Iowa, where they farmed the monastery for a number of years before moving to Hubbard, Nebraska.  I am related through their daughter, Ellen Louise O'Connor.
Patrick looks a little like a leprechaun to me. 🙂 Maybe it's the Abraham Lincoln beard with no mustache.  I'm not sure.
And Mary.  I wouldn't want to mess with her!
The poor woman doesn't look very comfortable in her dress, does she?
I wish I had a picture of them when they were younger, but I am eternally thankful for this one.