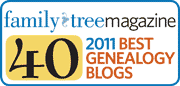 I just returned home from 5 days in Florida.  Disney World.  The Everglades.  Key West.  The beach.  All of it was very exciting.
But I was even more excited to learn that I was on the list of the top 40 genealogy blogs in Family Tree Magazine – in the new blogs category!!!
I started this blog almost exactly a year ago and have had so much fun with it.
I love having an outlet to share my finds, think through my brick walls, find others researching my families, and connect with other genealogists.
I am humbled and honored to be on the list with so many other great new bloggers.
My good friend Cherie, of Have You Seen My Roots? is on the list also (yeah Cherie!!).  As are Cynthia from Heritage Zen, Brenda from Journey to the Past, and Lisa of Old Stones Undeciphered. And that's only the "new blogs" category.
There are 35 other great blogs on the list also.  If you haven't read the list yet, head on over to Family Tree Magazine and check it out. Congratulations to all of those listed – and all who were nominated!