Dr. John Jennings Moorman was my 4th great-grandmother's younger brother.
He was resident physician at the White Sulphur Springs resort (Greenbrier) for many years and apparently wrote a memoir full of descriptions of the presidents and famous people he met while working there. He also wrote some books about the benefits of the water. I will write about all of that in more detail another time.
Today, I wanted to post his obituary, which I found while I was visiting Roanoke, Virginia last year. I wonder if he may have had another obituary written in West Virginia, where he lived for many years.  I also wonder if there may have been a more detailed obituary at a later date in this same paper, rather than a death announcement which this appears to be.  Sadly, it doesn't give any biographical information or even list his relatives.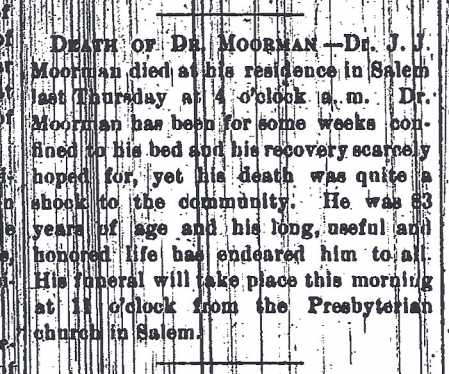 DEATH OF DR. MOORMAN – Dr. J.J. Moorman died at his residence in Salem last Thursday at 4 o'clock a.m.  Dr. Moorman has been for some weeks confined to his bed and his recovery scarcely hoped for, yet his death was quite a shock to the community.  He was 83 years of age and his long, useful and honored life has endeared him to all.  His funeral will take place this morning at 11 o'clock from the Presbyterian church in Salem.