I am a bookaholic.  I fully admit it.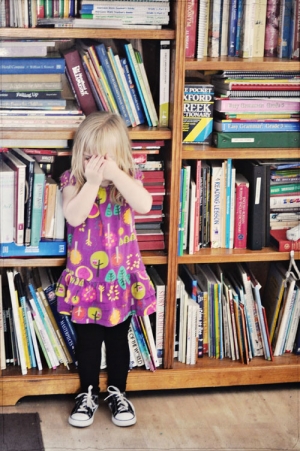 Over the years, I have accumulated quite the home library.  Most of the books are for our homeschooling, but I don't discriminate.  I like fiction and non-fiction alike.  Kids books.  Mysteries.  Photography manuals.  And of course genealogy books.
So, when you have this many books, how do you find anything?  Honestly, for a while there I couldn't.  I had books that I didn't know I owned, because they were lost on the shelves. I have them separated out by subject – science, history, art, education, language arts, photography, etc.  But there are so many within each of those sections that I still was often unsure of what we actually had.
With our many moves (we're military) I am always worried that one of these times something disastrous will happen.  A train derailment.  Flooding in the crates.  Something that would ruin what has taken me years to collect.  I decided that it would be nice to have a list of the books we own for insurance purposes also.  I honestly had no idea how many we owned – and would have a very hard time guessing.
Then I got a membership to LibraryThing. And I feel organized.
Free memberships allow you to add up to 200 books.  For many people, this will be sufficient.
I opted for the "lifetime" membership for $25.  It allows me to add as many books as I like.
Cataloging your library is easy.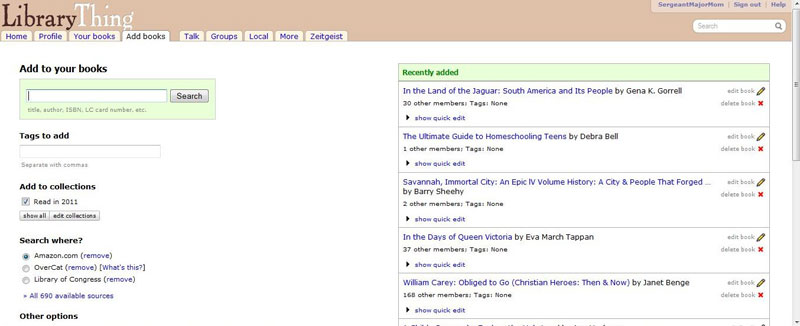 You can either type in the ISBN or title of the book you own and it will pop up (through Amazon if you wish).  You click on it to confirm that it's the version of the book you own.  Then you tag the book with whatever you want – science, biography, underwater basketweaving, favorites, etc.
And viola! You have a catalog of your home library.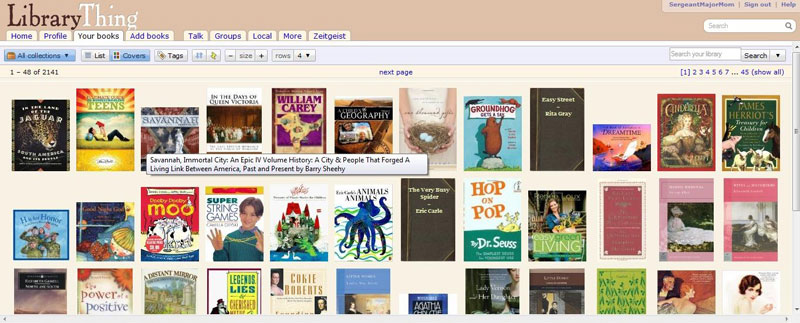 When you are looking for a book on a certain subject, you can click on that tag and see what you own.
You can also share your library with others on your website with a nifty little widget.  You can choose books with a specific tag or else your entire library.  You can also customize the widget, changing the number of columns and rows, if you want just the covers or also text, and if you want it to be a static image, or else a rotating widget, showing different books ever few seconds.

Neat, huh?
By the way, you can create any number of collections.  You can make a collection of books that you have read but don't own, or perhaps a list of your reading "wish list".
If you look in my sidebar, you can see the widget I created of the books I own, which are tagged "genealogy".
P.S.  I'm not quite done adding all of my books in yet.  The downstairs is done, but I still have to go add the books in everyone's bedrooms.  I'm already at 2,141 books. Yes, over TWO THOUSAND books.  The movers hate us.