Thomas Ridgeway of Harrison County, Ohio was my husband's 4th great-grandfather. He is descended through Thomas' daughter, Hannah Stafford.
Here is his will and probate. I have transcribed it below the scanned images. I appreciated the nice large handwriting. 🙂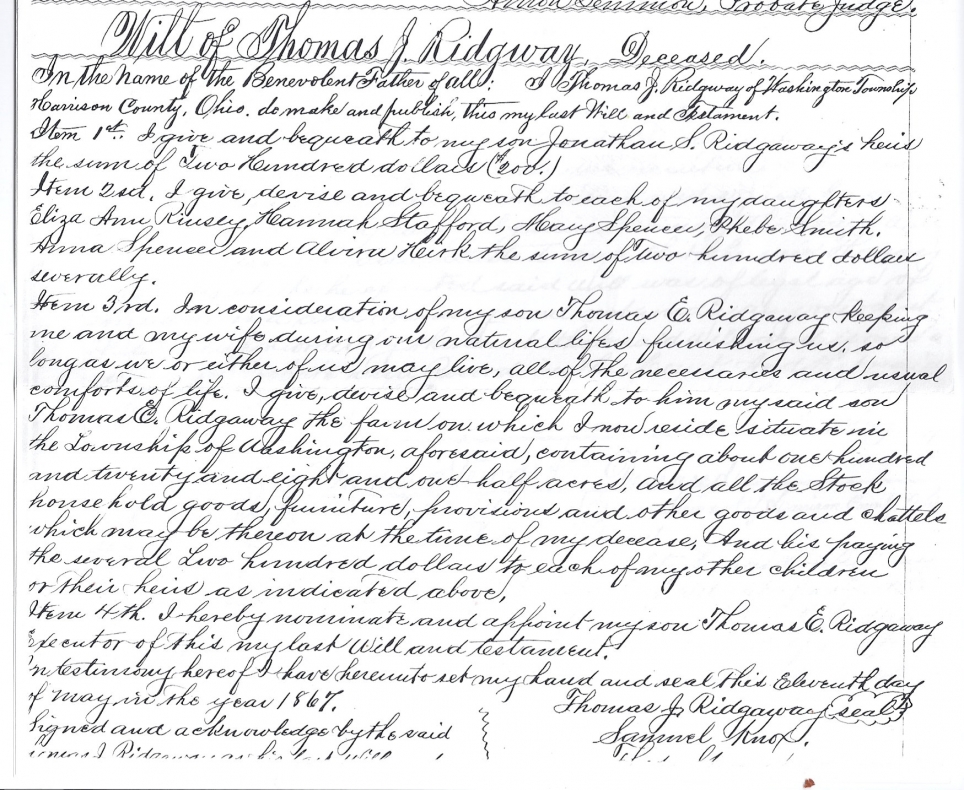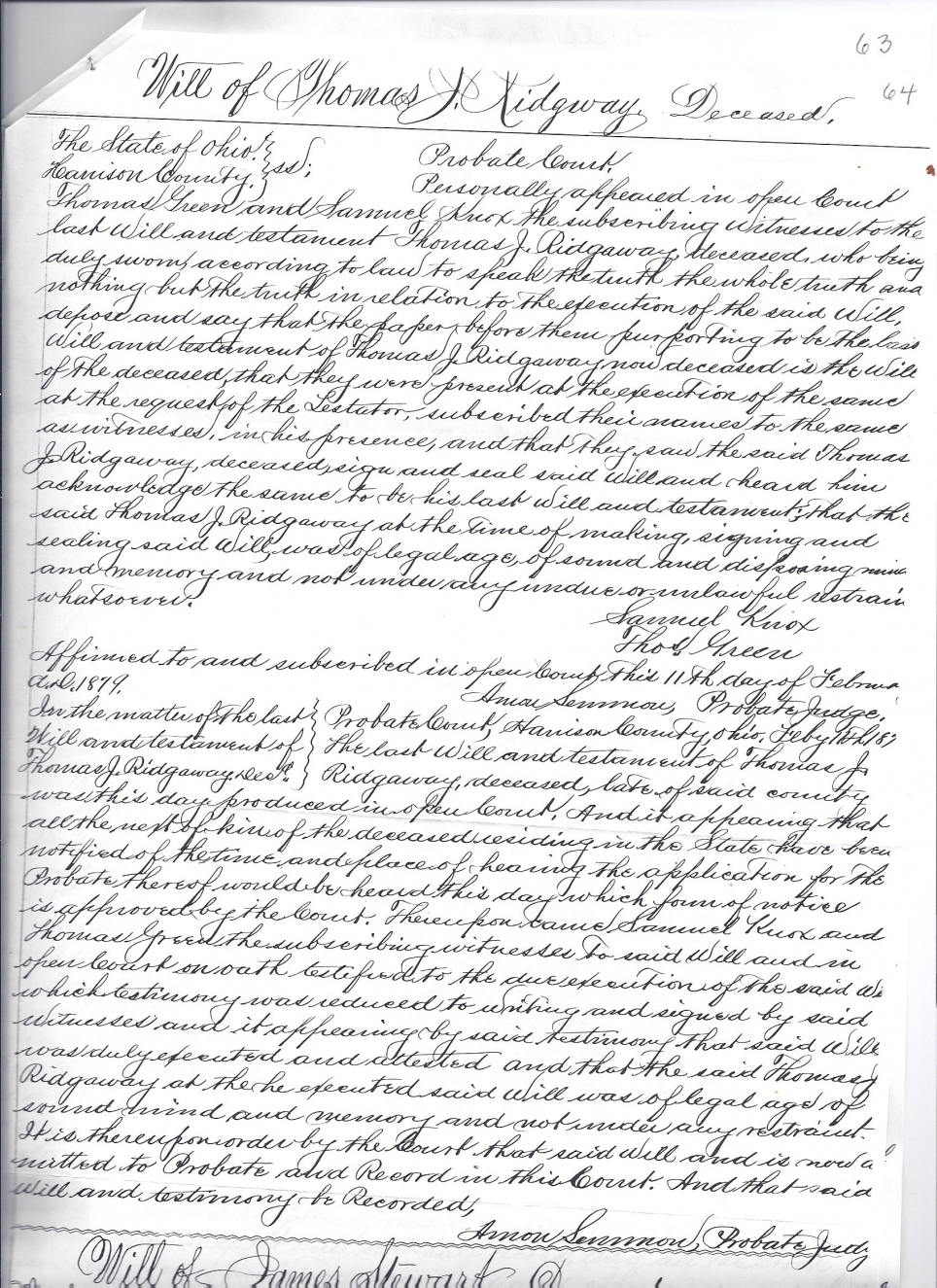 Will of Thomas J. Ridgway, Deceased.
In the name of the Benevolent Father of all: I Thomas J. Ridgway of Washington Township, Harrison County, Ohio, do make and publish, this my last Will and Testament.
Item 1st I give and bequeath to my son Jonathan S. Ridgaway's heirs the sum of Two Hundred dollars ($200)
Item 2nd, I give, devise and bequeath to each of my daughters Eliza Ann Kinsey, Hannah Stafford, Mary Spencer, Phebe Smith, Anna Spencer and Alvira Kirk the sum of two hundred dollars severally.
Item 3rd. In consideration of my son Thomas E. Ridgaway keeping me and my wife during our natural lifes furnishing us, so long as we or either of us may live, all of the necessaries and usual comforts of life. I give, devise and bequeath to him my said son Thomas E. Ridgaway the farm on which I now reside situate in the Township of Washington, aforesaid, containing about one hundred and twenty and eight and one half acres, and all the Stock household goods, furniture, provisions and other goods and chattels which may be thereon at the time of my decease and his paying the several Two hundred dollars to each of my other children
Item 4th. I hereby nominate and appoint my son Thomas E. Ridgaway Executor of this my last Will and testament.
In testimony hereof I have hereunto set my hand and seal this Eleventh day of May in the year 1867.
Thomas J. Ridgaway (seal)
Samuel Knox
In the state of Ohio.
Harrison County.
Probate Court.
Personally appeared in open Court Thomas Green and Samuel Knox the subscribing witnesses to the last Will and testament Thomas J. Ridgaway, deceased, who being duly sworn, according to law to speak the truth the whole truth and nothing but the truth in relation to the execution of the said Will, depose and say that the paper before them purporting to be the last Will and testament of Thomas J. Ridgaway, now deceased is the will of the deceased, that they were present at the execution of the same at the request of the Testator, subscribed their names to teh same as witnesses, in his presence, and that they saw the said Thomas J. Ridgaway, deceased, sign and seal said Will and heard him acknowledge the same to be his last will and testament; that he said Thomas J. Ridgaway at the time of making, signing and sealing said will, was of legal age, of sound and disporing midn and memory and not under any undue or unlawful restraints whatsoever.
Samuel Knox
Thomas Green
Affirmed to and subscribed in open Court This 11th day of February A.D. 1879 Amou Semmon, Probate Judge.
In the matter of the last will and testament of Thomas J. Ridgaway, Dec.
Probate Court, Harrison County, Ohio, Feby 11th 1879. The last will and testament of Thomas J. Ridgaway, deceased, late of said county was this day produced in open court, And it appearing that all the next of kin of the deceased residing in the state have been notified of the time and place of hearing the application for the Probate thereof would be heard this day which form of notice is approved by the Court. Thereupon came Samuel Knox and Thomas Green the subscribing witnesses To said Willa nd in open Court on oath testified to the due execution of the said Will which testimony was reduced to writing and signed by said witnesses and it appearing by said testimony that said Will was duly executed and attested and that said Thomas J. Ridgaway as the he executed said Will was of legal age of sound mind and memory and not under any restraint. It is thereupon order by the Court that said Will and is now admitted to Probate and Record in this Court. And that said will and testimony be Recorded, Amon Semmon, Probate Judge