This was found on GenealogyBank.com.  It was in the Seattle Times on 20 Aug 1964.  Michael Keene would be my mother's first cousin.  He was so young when he died. I wonder what happened.  His mother was Luella Gertrude Sanchez Keene, my Grandpa Don's sister.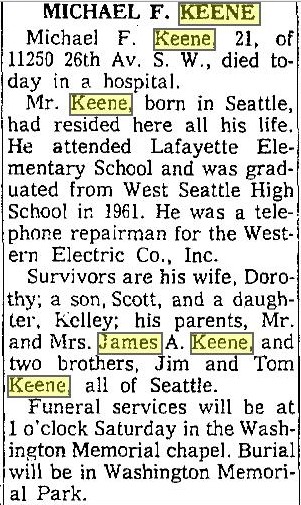 MICHAEL F. KEENE
Michael F. Keene 21, of 11250 26th Av. S.W., died today in a hospital.
Mr. Keene, born in Seattle, had resided here all his life.  He attended Lafayette Elementary School and was graduated from West Seattle High School in 1961.  He was a telephone repairman for the Western Electric Co., Inc.
Survivors are his wife, Dorothy; a son, Scott, and a daughter, Kelley; his parents, Mr. and Mrs. James A. Keene, and two brothers, Jim and Tom Keene all of Seattle.
Funeral Service will be at 1 o'clock Saturday in the Washington Memorial chapel. Burial will be in Washington Memorial Park.