Eugenia V. Bergman was my great-grandmother.  Her obituary was in the Seattle Times, page 21, dated April 16, 1960.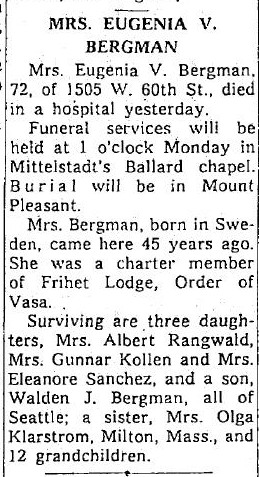 MRS. EUGENIA V. BERGMAN
Mrs. Eugenia V. Bergman, 72, of 1505 W. 60th St., died in a hospital yesterday.
Funeral services will be held at 1 o'clock Monday in Mittelstadt's Ballard chapel. Burial will be in Mount Pleasant.
Mrs. Bergman, born in Sweden, came here 45 years ago.  She was a charter member of Frihet Lodge, Order of Vasa.
Surviving are three daughters, Mrs. Albert Rangwald,  Mrs. Gunnar Kollen, and Mrs. Eleanore Sanchez, and a son, Walden J. Bergman, all of Seattle; a sister, Mrs. Olga Klarstrom, Milton Mass., and 12 grandchildren.
And here is a picture of her with her grandchildren.
I believe that it was taken at Christmas, 1956.  That would have been 3 1/2 years before she died.