Patricia M. Sanchez was my great-grandmother.  She was married to Theodore F. Sanchez, whose obituary I posted last week.
This was published in the Seattle Times, page 29, on 24 February 1958.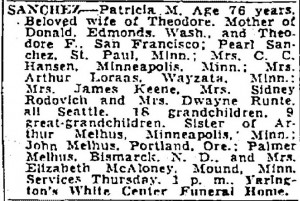 SANCHEZ – Patricia M. Age 76 years.  Beloved wife of Theodore.  Mother of Donald, Edmonds, Wash., and Theodore F., San Francisco; Pearl Sanchez, St. Paul, Minn.;  Mrs. Arthur Loraas, Wayzata, Minn.; Mrs. James Keene, Mrs. Sidney Radovich and Mrs. Dwayne Runte, all Seattle.  18 grandchildren, 9 great-grandchildren.  Sister of Arthur Melhus, Minneapolis, Minn.; John Melhus, Portland, Ore.; Palmer Melhus, Bismarck, N.D., and Mrs. Elizabeth McAloney, Mound, Minn.  Services Thursday, 1 p.m., Yarington's White Center Funeral Home.