Week 3: Cars.  What was your first car? Describe the make, model and color, but also any memories you have of the vehicle. You can also expand on this topic and describe the car(s) your parents drove and any childhood memories attached to it.
52 Weeks of Personal Genealogy & History by Amy Coffin is a series of weekly blogging prompts (one for each week of 2011) that invite genealogists and others to record memories and insights about their own lives for future descendants. You do not have to be a blogger to participate. If you do not have a genealogy blog, write down your memories on your computer, or simply record them on paper and keep them with your files.
I don't think I have any pictures of my first car.  It wasn't anything to brag about. I was thankful to have something of my own to drive though.  I can't even remember what type of car it was.  It was a 1978 and it was a huge green boat of a car.  It had belonged to my Grandpa, Ed Thompson.  Soon after that,  I began driving another big car, this one a cream-colored 4-door Chevy Nova.  Not super-exciting either.  When I left for the Air Force, I was carless for a couple of  years.  It kept me in shape!
Since I have nothing exciting to write about my own vehicles, I thought that I'd focus this post on my Grandpa Don Sanchez.  He was an auto mechanic and had an obvious love of cars.  The majority of the pictures I have of him include a car.   He had his own mechanic shop for a number of years.  I think that I need to read up on cars a bit – I might have an easier time dating some of these pictures!
I found this picture among these things.  My mom had said that she thought it was the place he owned with his brother, Floyd.   Unfortunately, all I can read of the sign is "ARAGE".  Not very helpful. 🙂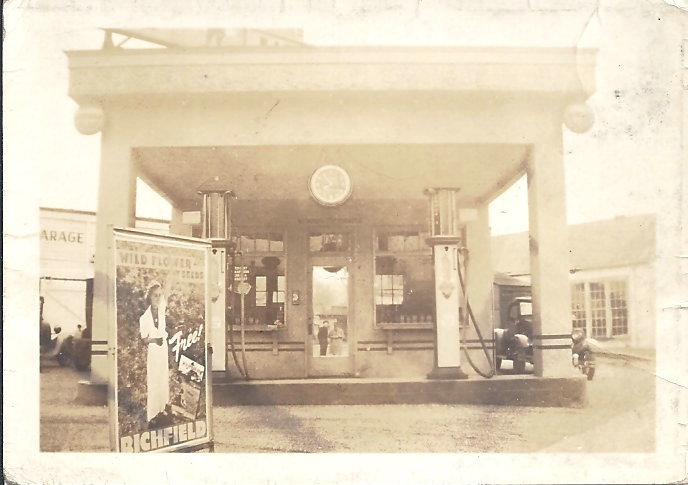 In this one though, I can read "Burien Service Associates".  A clue. There is another small sign behind the car, but I can't read it.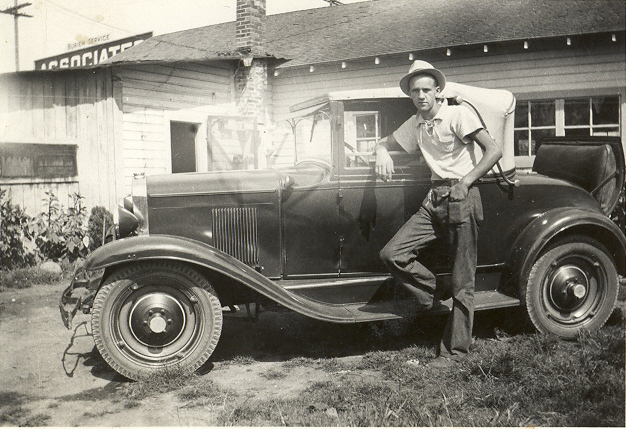 And this, I believe is one of my Grandpa's nephews.  I thought the Indian on the car was interesting.

And I wonder where he is in this picture.  Doesn't it look like he might be on a track or field of some sort.  Those are a lot of steps behind him.

Even though I have no idea what any of them are, I like looking at them! 🙂