This is a stretch for Madness Monday.  No, he wasn't crazy, but he was drunk and acting crazy.
I found this in the Omaha World Herald, dated March 3, 1907.
Solomon Madison Hattery was my great-great grandmother's brother.  He seemed to live a pretty rough life.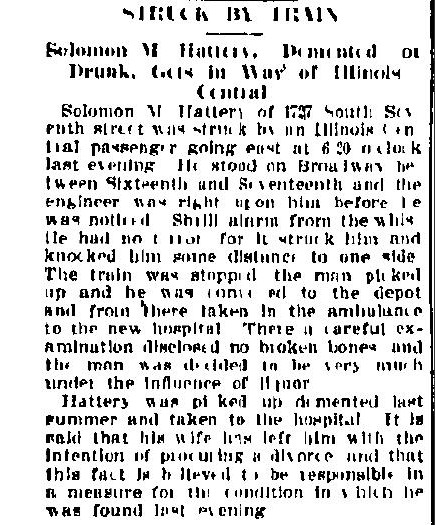 STRUCK BY TRAIN
Solomon M. Hattery. Demented or Drunk.  Gets in Way of Illinois Central
Solomon M. Hattery, of 1737 South Seventh street was struck by an Illinois Central passenger going east at 6:30 o'clock last evening.  He stood on Broadway between Sixteenth and Seventeenth and the engineer was right upon him before he was noticed.  Shrill alarm from the whistle had no effect for it struck him and knocked him some distance to one side.  The train was stopped the man picked up and he was conveyed to the depot and from there taken in the ambulance to the new hospital.  There a careful examination disclosed no broken bones and the man was decided to be very much under the influence of liquor.
Hattery was picked up demented last summer and taken to the hospital.  It is said that his wife has left him with the intention of procuring a divorce and that this fact is believed to be responsible in a measure for the condition in which he was found last evening.