This is another Genealogy Bank find.
Theodore F. Sanchez was my great-grandfather. I never met him, because he died before I was born.
The obituary is from the Seattle Times, dated 30 March 1962.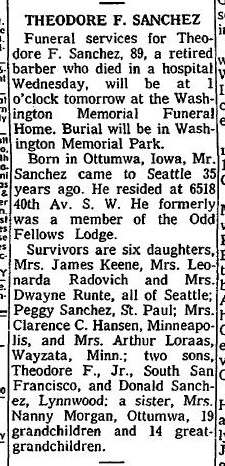 Theodore F. Sanchez
Funeral Services for Theodore F. Sanchez, 89, a retired barber who died in a hospital Wednesday, will be at 1 o'clock tomorrow at the Washington Memorial Funeral Home.  Burial will be in Washington Memorial Park.
Born in Ottumwa, Iowa, Mr. Sanchez came to Seattle 35 years ago.  He resided at 6518 40th Av. S. W.  He formerly was a member of the Odd Fellows Lodge.
Survivors are six daughters, Mrs. James Keene, Mrs. Leonarda Radovich and Mrs. Dwayne Runte, all of Seattle; Peggy Sanchez, St. Paul; Mrs. Clarence C. Hansen, Minneapolis, and Mrs. Arthur Loraas, Wayzata, Minn.; two sons, Theodore F., Jr. South San Francisco, and Donald Sanchez, Lynnwood; a sister, Mrs. Nanny Morgan, Ottumwa, 19 grandchildren and 14 great-grandchildren.
This death notice was further down on the same page: