One of the interesting articles I found with my new GenealogyBank.com membership, was this article on my husband's great-grandfather, Nicholas Van Cossaboon.  He was a Methodist Minister and apparently had allegations of misconduct brought against him.  They seem to be unfounded though and the investigation was dropped. I'm sure that he wasn't thrilled that this was in the paper. This was published in the Bridgeton Evening News, on July 10, 1909.

PREACHER DENIES WOMAN'S CHARGES
Declares That He Did Not Kiss Her or Act in Improper Manner.
INVESTIGATION DROPPED.
Stewards Sustain Pastor Cossaboon, Asserts District Superintendent N.J. Wright.
The following dispatch, under a Bridgeton date line, appeared in the Philadelphia Ledger this morning.
BRIDGETON, July 9 – Allegations of unbecoming conduct made by Mrs. Elmira Scull, wife of a farmer, against the Rev. Nicholas V. Cossaboon, pastor of the Methodist Episcopal Churches of Dennisville and South Dennis, are not likely to be subject of further investigation by the church authorities.
On three separate occasions, Mrs. Scull declares Mr. Cossaboon made proposals to her which caused her to request him to leave her home.
The Rev. N.J. Wright, superintendent of Bridgeton District of the Methodist Episcopal Church, said last night that the matter had not been brought to his attention officially and he did not expect that it would.
"Unless the affair assumes a more serious phase," declared Mr. Wright, "I will take no action.  I understand that the Boards of Stewards have paid no attention to the woman's assertions, deeming them without foundation.  No charges have been made and the stewards attach no significance to Mrs. Scull's statements.  The stewards will stand by the pastor."
Stewards of the two churches were to have held a joint meeting last night in Dennisville, at which it was expected accuser and accused would meet face to face.  The three church officers from South Dennis did not attend.  Their brethren informed Mr. Cossaboon that they would take no action, at least for the present.
At this moment, Mrs. Scull stepped up and grabbing the pastor by the coatsleeve exclaimed: "Mr. Cossaboon, I hear you deny that you misbehaved at my house?"
"I do, " replied the minister.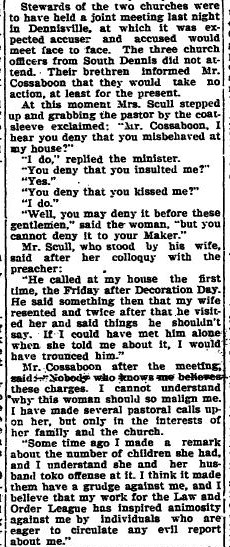 "You deny that you insulted me?"
"Yes"
"You deny that you kissed me?"
"I do"
"Well, you may deny it before these gentlemen, " said the woman, "but you cannot deny it to your Maker."
Mr. Scull, who stood by his wife, said after her colloquy with the preacher:
"He called at my house the first time, the Friday after Decoration Day.  He said something then that my wife resented and twice after that he visited her and said things he shouldn't say.  If I could have met him alone when she told me about it, I would have trounced him."
Mr. Cossaboon after the meeting said "Nobody who knows me believes these charges.  I cannot understand why this woman should so malign me.  I have made several pastoral calls upon her, but only in the interests of her family and the church.
"Some time ago I made a remark about the number of children she had, and I understand she and her husband take offense at it.  I think it made them have a grudge against me, and I believe that my work for the Law and Order League has inspired animosity against me by individuals who are eager to circulate any evil report about me."
Mrs. Scull is 34 years old and the mother of six children, the eldest whom is 13.  Mr. Cossaboon's accuser is not a member of either of his churches.  He has been in charge of the two congregations two years.  Mrs. Cossaboon is outspoken in her belief of her husband's innocence.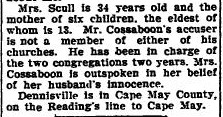 Dennisville is in Cape May County, on the Reading's line to Cape May.