I have been contemplating a Genealogy Bank membership for quite some time.  I couldn't decide if it was worth the money or not.  I have an Ancestry membership and had a Footnote one for a while.  Did I really need another one?
I took the plunge last night, signing up for a year-long membership.  And I'm so glad that I did.
I immediately started typing in names, seeing what would come up.  I found obituaries for a few of my great-grandparents, and while I didn't necessarily learn any new information, they were nice to have.
I found some great pictures of my Great Aunt and Uncle, dressed in their Swedish folk dancing outfits.
But the greatest find of all was an article I found about my aunt and uncles.  It is hilarious.  I will abbreviate their names since they are living and I don't want to completely embarrass them by making their exploits googlable. 🙂
The article was titled "Trouble Factory: Mother's Day Hectic" from the Seattle Times in Feb 1961:
If there is anyone around wanting to borrow trouble, Mr. and Mrs. D. S. , Lynwood have a productive trouble factory from which they will be happy to make a quick loan, without collateral or interest.
But no returns, please.
In the family home at 50818 59th Place W. today, Mrs. S sighed the weary sigh of a despairing mother.
Their son, A, 3, was in Ballard General Hospital recovering from effects of an unauthorized medicine-sampling yesterday afternoon.
A was hustled off to the family doctor, along with his daughter, P, 6 months old, upon whom A also had "practiced" medicine.
That occurred whiled Mrs. S was preoccupied with still another problem, her missing 5-year old son, T,  who Mrs. S  learned at 4:30 o'clock was not where she thought he was and had not been seen since noon.
"T came home from kindergarten about 11 o'clock and later went up to a neighbor boy's home to play." Mrs. S said. "I thought everything was fine until the boy's brother came looking for him here."
"The neighbors started hunting and I called police. Then I called my husband at work. I had to stay with the baby. She has asthma and I've had her in the hospital five times since last November.
"Finally, the police found T about 5:30 playing at another neighbor's home.  When I went to the bedroom, I found Patricia with pink asthma medicine smeared all over her face."
"A was acting strangely quiet; so I called the doctor.  He said to hurry right over with both of them. The medicine has some sort of drug in it and the doctor said A had swallowed a big enough does for three boys four times his size.  He ordered him to a hospital."
What other trouble?
Mrs. S sighed again.
"My other son, S – he is 6, got scarlet fever on Christmas," she said. "On New Year's Day he fell out of his top bunk  and broke his shoulder"
The article also included 2 pictures with it – one of my Uncle A with his nurse.  The other was my Aunt P, being held by my (step)-grandma and had the caption: Mrs. D S, Lynwood, held her daughter P, 6 months old, who was fed a dose of medicine yesterday by her brother, A, 3, while Mrs. S was looking for another son.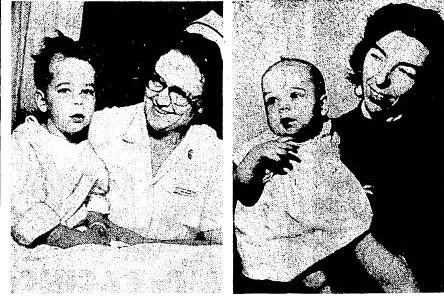 I of course immediately sent the article to my aunt and uncles and was surprised to hear that not only had none of them seen the article, but they had never even know that it had happened!  We all got a good laugh out of it. 🙂
This is the type of article I was hoping to find. An interesting family story was unearthed. I can't wait to see what else I might find!
I do have one question though.  Does anyone know if you change a PDF into a JPEG?  That is my only gripe – the images are downloaded as PDFs, which means I can't easily share them with you here.  The only thing I could figure to do was take a screenshot of the PDF, save it as a JPEG and then crop it where I wanted it.  Is that my only option?