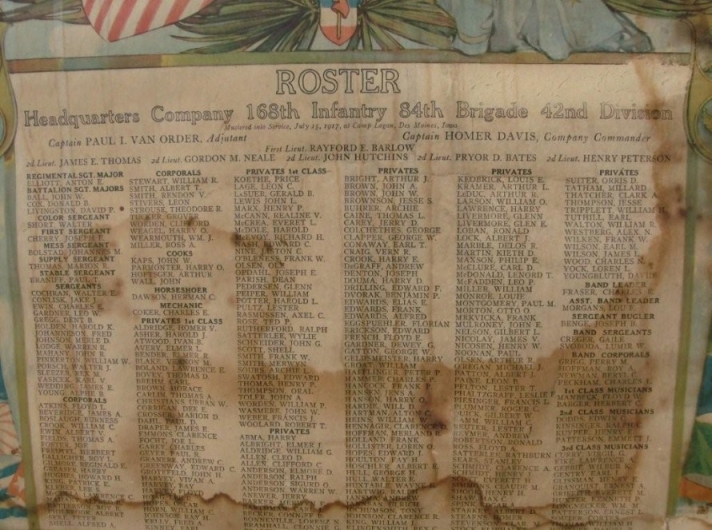 My great-grandfather Alfred Leroy Edwards  and his brother Elias E., served in the 42nd Division (The Rainbow Division) during WWI.  I don't have any pictures of him during this time period, or any of his military records, but I figured that at least I could find out what battles his unit took part in to get a better picture of what his experience must have been like.
My dad has a photograph of him shaving in France, but he can't find it right now.  Keeping my fingers crossed that it shows up!
Looking onlilne, I found this list of the battles engaged in by the 42nd Division : (1) Luneville sector, Lorraine, February 21 to March 23, 1918; (2) Baccarat sector, Lorraine, March 31 to June 21, 1918; (3) Esperance-Souain sector, Champagne, July 4 to July 17, 1918; (4) Champagne-Marne defensive, July 15 to 17, 1918; (5) Aisne-Marne offensive, July 25 to August 3, 1918; (6) Aisne-Marne offensive July 25 to August 11, 1918; (7) St. Mihiel offensive, September 12 to 16, 1918; (8) Essey and Pannes sector, Woevre, September 17 to 30, 1918; (9) Meuse-Argonne offensive, October 12 to 31, 1918; (10) Meuse-Argonne, October 7 to November 1, 1918; (11) Meuse-Argonne offensive, November 5 to 10, 1918; (12) Meuse-Argonne offensive November 5 to 9, 1918.
I also found some papers (a diary and some books) of another Iowa Private who served in the same regiment, which are available at the MacArthur Memorial in Norfolk, VA.  I would love to be able to read through his diary and get an idea of what life was like – since they may have had similar experiences.
I was also happy to find a picture of a roster from a different company(on an ebay site), but similar to the one above.  It is in great condition in a frame and has a uniform also.  It was neat to see what he would have worn.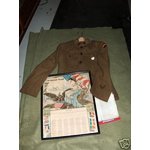 Someone in the family HAS to have a picture of him in uniform, don't you think?  I will have to do some searching….