My grandfather, Donald Sanchez, served in the Coast Guard during WWII. His exact service dates are unknown to me. I have asked my mom, as a next of kin, to order his military records. I am hoping that they provide with some more details.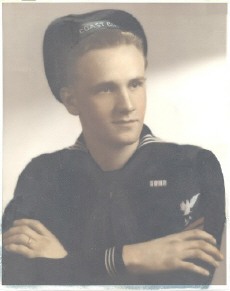 I do know that he served on the cutter "FIR" (WLM-212), which was based out of Seattle, WA. I found a wonderful publication about the history of this ship, including some great pictures. It answered many of my questions about what his duties may have been.
I had a comment on one of my previous Coast Guard-related posts from Dick Levesque, and that led me to his wonderful website, Coast Guard Pics.   He is a retired Coast Guardsman who created his site for anyone interested in pictures related to the Coast Guard.  What a great idea!  I sent him the pictures I have to add to his site.  Do you have any Coast Guard pictures in your collection?
The following picture was in my stack of those unidentified. With a little googling, I found out what it is. It is the Tillamook Rock Lighthouse, off the coast of Oregon. It was on a very cool website called Lighthouse Friends, where you can search for lighthouses by map.  It only took me a couple of minutes to find what I was looking for!
It is no longer a working lighthouse. I saw a picture with the waves way over the top of the building, so I can see why it was abandoned.  I read that "storms often brought flying rock and debris crashing through the lantern room and iron roof.  The fog signal would clog with pieces of seaweed or rock". The repairs were just too much. Someone actually bought it and is trying to sell space to put your loved one's urn in. Hmm.
Can you imagine being THAT isolated though?  I don't see anywhere to walk around, do you?  In the article I read, it mentioned the lighthouse keepers not getting along with one another after being cooped up together for so long (there were 4 of them assigned there for 3 months at a time). It said that "enraged keepers were known to pass notes at dinnertime rather than speak to each other". Wow. I wonder if the FIR stopped here to drop off supplies, or perhaps switch out stir-crazy keepers.  Maybe my grandpa just took a picture as they passed by.  Who knows.