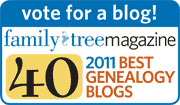 Voting has begun for Family Tree Magazine's 40 Best Genealogy Blogs and will continue through December 20th.  There are 8 different categories and you can vote for 5 in each one – and you can vote multiple times. 🙂 The top 40 will be named in the July 2011 issue of Family Tree Magazine.
I have been nominated in the New Blogs category – and so has my good friend Cherie, from Have You Seen My Roots?  There are many nominated blogs that I read regularly, but I'm very excited about going through the list of nominees and finding some new reads too!
So, here is the list of the nominated blogs, split into the 8 various categories:
Everything:
Relatively Curious About Genealogy
Clue Wagon
Family History Tracing
The We Tree Genealogy Blog
Roots and Rambles
Greta's Genealogy Bog
Elyse's Genealogy Blog
footnoteMaven
Creative Gene
Eastman's Online Genealogy Newsletter
You Go Genealogy Girls
The Educated Genealogist
SpittalStreet.com
Olive Tree Genealogy
Cemeteries:
Granite in My Blood
Digital Cemetery Walk
Over Thy Dead Body
Tombstone Territory
Escape to the Silent Cities
The Graveyard Rabbit Online Journal
Gen Wish List
Gravestoned
Cemetery Explorers
Technology:
Dienekes' Anthropology Blog
Renee's Genealogy Blog
MacGenealogy.org
Genealogy's Star
MobileGenealogy.com
Moultrie Creek Gazette
JLog
Ancestry Insider
Family Oral History Using Digital Tools
GeneaNet Genealogy Blog
Heritage Groups:
The Scottish Emigration Blog
Geniaus
Anglo-Celtic Connections
The Knowles Collection
George Geder Evangelist for African Ancestored Genealogy
Acadian & French-Canadian Ancestral Home
Luxegen Genealogy
Wandering and wondering (a'spaidsearachd agus a'meòrachadh)
Tracing the Tribe
Of Trolls And Lemons
Help! The Faerie Folk Hid My Ancestors
Black and Red Journal
Georgia Black Crackers
Donna's Ireland blog
Scottish GENES
The French Genealogy Blog
Research Advice/How-To:
Personal Past Meditations
Shades of the Departed
Genealogy Tip of the Day
Gena's Genealogy
Paula's Genealogical Eclectica
a3Genealogy
The Family Curator
FamHist
The Armchair Genealogist
Family History Research Tips
Pollyblog
NARAtions: The Blog of the United States National Archives
Local/Regional Research:
Grey County Historical Society
Virginia Historical Society Blog
MoSGA Messenger
Midwestern Microhistory
Eastern Washington Genealogical Society Blog
Utah Genealogical Association Blog
Brooklyn Historical Society Blog
Iawamba History Review
California Genealogical Society and Library Blog
New York History
My Ancestor's Name
St. Vincent Memories
Williams County, Ohio Genealogy
Sandusky History
Alberta Family Histories Society Blog
New Blogs:
The Faces of my Family
The Scottish Emigration Blog
Adventures in Genealogy Education
Have You Seen My Roots?
The Mashburn Collection
The Turning of Generations
Pursuits of a Desperate Genie
Nolichucky Roots
Journey to the Past
The Family Recorder
Old Stones Undeciphered
Climbing My Family Tree (You're already here!)
myirelandhome
My Tangled Vine
Sassy Jane Genealogy
Roots Traveler
Heritage Zen
My Family History:
Ancestories: The Stories of My Ancestors
Tangled Trees
Begin With Craft
Nutfield Genealogy
Slovak Yankee
Greta's Genealogy Bog
Little Bytes of Life
BeNotForgot
What's Past is Prologue
TJLGenes: Preserving Our Family History
Circlemending
West in New England
TransylvanianDutch
Reflections From the Fence
Finding Our Ancestors
Mississippi Memories
AtlasFamily.Org Blog
Gene notes
The Accidental Genealogist
Everything's Relative
The Internet Genealogist
Tonia's Roots
My Channel Island History
Finding Josephine
Now that you've had a chance to check out all of these wonderful blogs, get out there and vote!!
P.S.  If you notice that one of these links isn't working, please let me know.  It is very possible that I made a mistake somewhere along the way!