Peter Melhus was my 2nd Great Grandfather.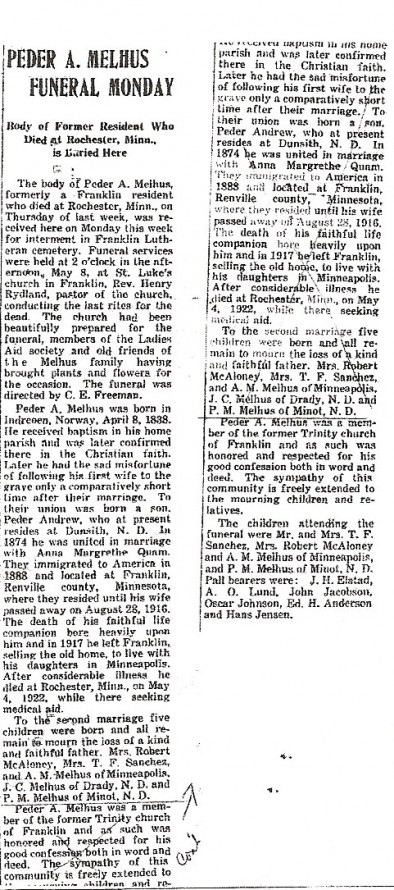 PEDER A. MELHUS FUNERAL MONDAY
Body of Former Resident Who Died at Rochester, Minn. is Buried Here
The body of Peder A. Melhus, formerly a Franklin resident who died at Rochester, Minn., on Thursday of last week, was received here on Monday this week for interment in Franklin Lutheran cemetery.  Funeral services were held at 2 o'clock in the afternoon, May 8, at St. Luke's church in Franklin, Rev. Henry Rydland, pastor of the church, conducting the last rites for the dead.  The church had been beautifully prepared for the funeral, members of the Ladies Aid society and old friends of the Melhus family having brought plants and flowers for the occasion.  The funeral was directed by C E Freeman.
Peder A. Melhus was born in Indreoen, Norway, April 8, 1838.  He received baptism in his home parish and was later confirmed there in the Christian faith.  Later he had the sad misfortune of following his first wife to the grave only a comparatively short time after their marriage.  To their union was born a son, Peder Andrew, who at present resides at Dunsith, N.D.  In 1874 he was united in marriage with Anna Margrethe Quam.  They immigrated to America in 1888 and located at Franklin, Renville county, Minnesota, where they resided until his wife passed away on August 28, 1916.  The death of his faithful life companion bore heavily upon him and in 1917 he left Franklin, selling the old home, to live with his daughters in Minneapolis.  After considerable illness, he died at Rochester, Minn., on May 4, 1922, while there seeking medical aid.
To the second marriage five children were born and all remain to mourn the loss of a kind and faithful father.  Mrs. Robert McAloney, Mrs. T. F. Sanchez, and A. M. Melhus of Minneapolis.  J.C. Melhus of Drady, N.D. and P.M. Melhus of Minot, N.D.
Peder A. Melhus was a member of the former Trinity church of Franklin and as such was honored and respected for his good confession both in word and deed.  The sympathy of this community is freely extended to the mourning children and relatives.
The children attending the funeral were Mr. and Mrs. T.F. Sanchez, Mrs. Robert McAloney, and A.M. Melhus of Minneapolis, and P.M. Melhus of Minot, N.D.  Pall bearers were: J.H. Elstad, A.O. Lund, John Jacobson, Oscar Johnson, Ed H. Anderson and Hans Jensen.