I know that St. Lucia Day isn't until the 13th, but I thought that by posting this early, maybe some of you could enjoy it this year!
Ever since seeing this picture of my grandma – Eleanore Sonia Bergman (she is the 4th girl from the left), I have been intrigued by St. Lucia Day.  I had actually never heard of it before and I initially wondered what on earth this was a picture of.  It didn't take much web-searching before I found what I was looking for. Gotta love Google.  St. Lucia Day is a very popular occasion in Sweden, although not an actual holiday.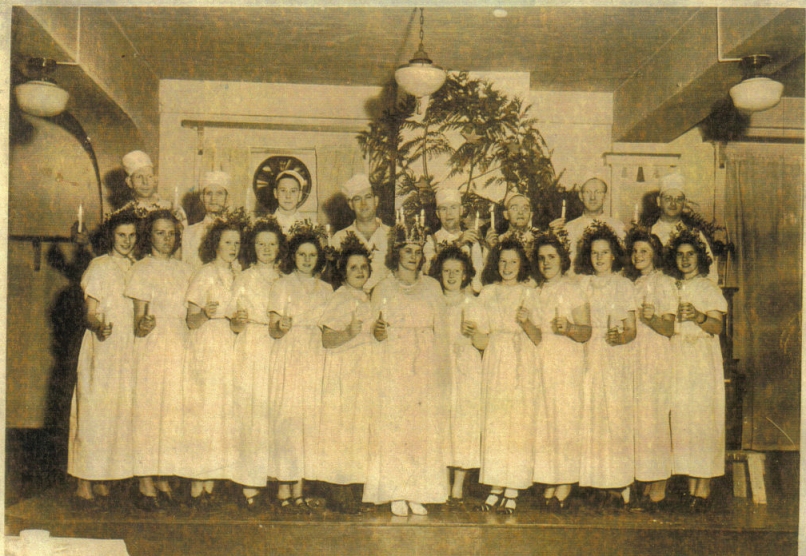 Eleanore's parents were from Sweden, and they lived in the very Scandinavian neighborhood of Ballard in Seattle, WA. I am assuming that this picture was taken in the Ballard area. I never knew my grandmother to be religious, but perhaps she went to church growing up – or maybe this was done at a community center.  She was born in 1922, so I'm assuming that this picture was taken around 1940.  It's hard for me to tell how old she is here, but they all look to be teenagers to me.
The picture is very typical of what I've seen online.  Girls in white dresses with wreaths on their heads and candles in their hands.  One girl chosen as St. Lucia with the candles on her head.  The only thing that I notice is "missing" are the red sashes that are typically worn around their waists.
The thing I find odd about the photo is the guys in the background with the funny hats.  They look like cooks or something. Were they selling hot dogs on the street and just came in for the picture?
After some more searching online, I found many videos of St. Lucia Day.  I think that just about everything has been You Tubed. 🙂
I noticed that the boys in the videos are wearing what looks like wizard hats.  Tall, pointy, with stars on them.  I guess that the guys in the above picture were simply wearing a version of that.
The song that they sing is absolutely beautiful.  I had heard it before, but hadn't realized that it was sung on this particular day.
Isn't it a beautiful tradition?  There is just something so calming about the music and the candles on one of the longest nights of the year.
Sorry I included so many videos, but I just couldn't choose.  I will definitely be adding this song to my Christmas playlist. 🙂
Here is some information on St. Lucia Day in Sweden (from www.whychristmas.com):
Around Christmas time in Sweden, one of the biggest celebrations is St. Lucia's Day (or St. Lucy's Day) on December 13th. The celebration comes from stories that were told by Monks who first brought Christianity to Sweden.

St Lucia was a young Christian girl who was martyred, killed for her faith, in 304AD. The most common story told about St Lucia is that she would secretly bring food to the persecuted Christians in Rome, who lived in hiding in the catacombs under the city. She would wear candles on her head so she had both her hands free to carry things. Lucy means 'light' so this is a very appropriate name.

December 13th was also the Winter Solstice, the shortest day of the year, in the old Julian calendar and a pagan festival of lights in Sweden was turned into St. Lucia's Day.

St. Lucia's Day is now celebrated by a girl dressing in a white dress with a red sash round her waist and a crown of candles on her head. (Normally electric candles are used for safety!) The crown is made of Lingonberry branches which are evergreen and symbolise new life in winter. Schools normally have their own St. Lucias and some town and villages also choose a girl to play St. Lucia in a procession where carols are sung.

A national Lucia is also chosen. Lucias also visit hospitals and old people's homes singing a song about St Lucia and handing out 'Pepparkakor', ginger snap biscuits.

Small children sometimes like dressing up as Lucia (with the help of their parents!). Also boys might dress up as 'Stjärngossar' (star boys) and girls might be 'tärnor' (like Lucia but without the candles).

A popular food eaten at St. Lucia's day are 'Lussekatts', St Lucia's day buns flavoured with saffron and dotted with raisins which are eaten for breakfast.
I would really like the opportunity to attend a St. Lucia Day ceremony. I wonder if any of the local Lutheran churches celebrate it.  I would much rather watch it in Sweden though. 🙂  Have any of you ever seen this ceremony before?