December 3 – Christmas Tree Ornaments
Did your family have heirloom or cherished ornaments? Did you ever string popcorn and cranberries? Did your family or ancestors make Christmas ornaments?
When I was growing up, I don't believe that we had any ornaments that were "heirlooms".  But I consider those same ornaments (which my mom gifted to me a few years ago) heirlooms now.
We bought a lot of the collectible ornaments from Hallmark on the day after Christmas.  I like them, but the ones I cherish are the homemade ones.
We never strung popcorn or cranberries, but that sounds very quaint.  Like it belongs in a Land's End or Pottery Barn catalog.  Do people still do that?  Don't the cranberries get old?  I think that my kids would eat the popcorn. 🙂
The ornament I love the most is this pair of mittens that was always hanging on our tree.  Yes, 1981 wasn't THAT long ago, but I was only 5 then, so it seems like ages. 🙂  I honestly don't know who made these.  They are knitted though, so it must have been my Great Aunt Elvy.  Aren't they pretty??
My mom (and her mom) went through this needlepointing phase in the 1980's.  Was it a fad or something?  I'm not sure.  Anyway, I have a few gallon ziploc bags full of needlepointed ornaments which I consider heirlooms.  I have enough to pass down to all 5 of my kids!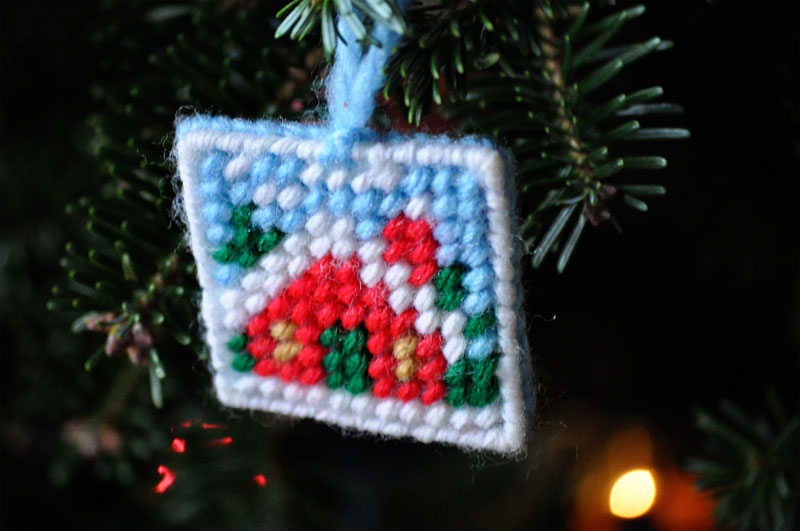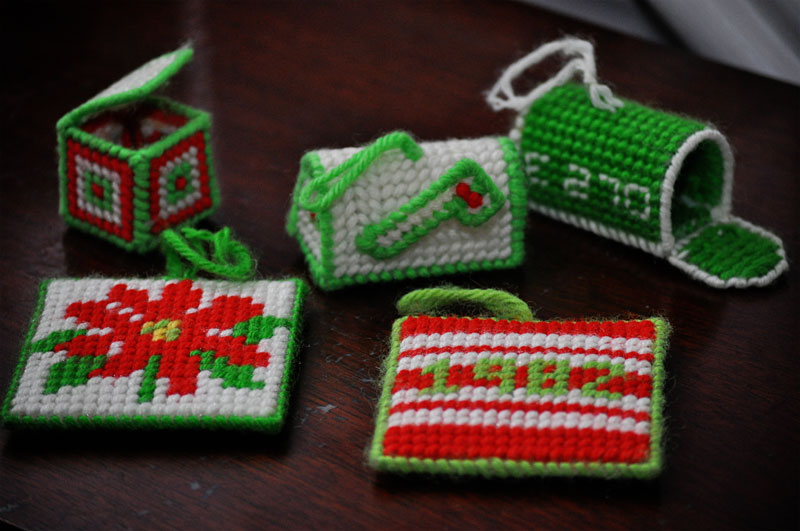 Along with the handmade heirlooms, our current tree is covered in ornaments from the various places we have lived and traveled.  I have been buying ornaments as my souvenir when we visit a new place.
Here are some from when we lived in North Pole, Alaska:

Monterey, California:

I picked this one up earlier this year when we were in Lancaster county, Pennsylvania.  It matches the quilt I bought for my bed!

When we lived in San Antonio, Texas:

And from Washington State:

The mixture of souvenirs, handmade heirlooms, and paper ornaments made by my kiddos makes for a very eclectic mixture on the tree.  No, it's not picture-perfect gorgeous.  Nothing "matches".  And I let my kids hang the ornaments themselves, so they aren't always places perfectly.  I think that's what makes it special though. 🙂  It's a mixture of memories past and memories that we're making now.

I wish that I had some heirloom ornaments from beyond my parents' generation.