I grew up in the woods, on a small island in Puget Sound. The nearest town dubbed itself "The Christmas Tree Capital of the World".  I don't know how true that was, but I do know that Christmas Trees and wreaths were big business.
So, after having said that, do you think that we used a fake tree?  I would have felt a traitor. 🙂
We always had a real tree.  Always.  Sure, they can be a little messy with the needles falling off and such, but nothing beats the smell of a real tree.  It fills the house.
In my entire life, I have only done a fake tree one year – while Andy was deployed in Iraq.  The thought of getting the tree home and into a stand when it was negative 20 degrees out (with 5 little kids in tow) didn't appeal to me.  I cheated and bought a cheap tree-in-a-box.  I regretted it.  It just didn't feel very Christmasy without it – or without him. It was a fake Christmas.
When I was growing up, sometimes we would just go out back and get a tree and other times we'd go to a Christmas Tree farm down the road.  We normally didn't get our tree until about 2 weeks before Christmas – usually just after my sister's birthday.
I broke from tradition this year though.  We put our tree up this past weekend.  Here is my youngest daughter, who got the honors of putting the star on this year. 🙂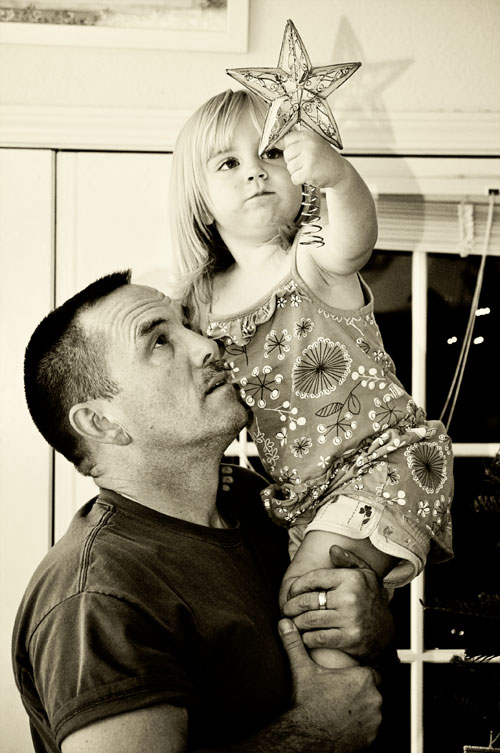 Unfortunately, I don't have any stories of my ancestors' Christmas Tree traditions.  I wish that I did!