This Madness Monday, I am going to share a newspaper article I found while on my recent trip to Niagara county, New York.
This article is about my husband's great uncle, Henry Woods.  It is very sad. 🙁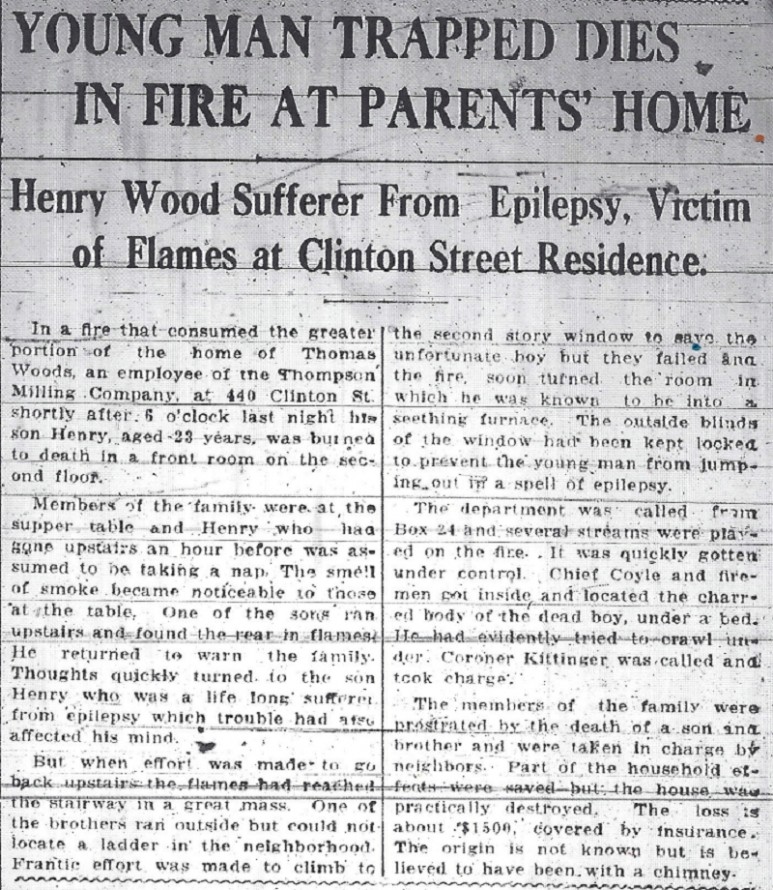 The Union-Sun, Lockport, NY.  Thursday Evening, August 26, 1915.
"YOUNG MAN TRAPPED DIES IN FIRE AT PARENTS' HOME
Henry Wood Sufferer From Epilepsy, Victim of Flames at Clinton Street Residence.
In a fire that consumed the greater portion of the home of Thomas Woods, an employee of the Thompson Milling Company, at 440 Clinton St. shortly after 6 o'clock last night his son Henry, aged 23 years, was burned to death in a front room on the second floor.
Members of the family were at the supper table and Henry who had gone upstairs an hour before was assumed to be taking a nap.  The smell of smoke became noticeable to those at the table.  One of the sons ran upstairs and found the rear in flames.  He returned to warn the family.  Thoughts quickly turned to the son Henry who was a life long sufferer from epilepsy which trouble had also affected his mind.
But when effort was made to go back upstairs the flames had reached the stairway in a great mass.  One of the brothers ran outside but could not locate a ladder in the neighborhood.  Frantic effort was made to climb to the second story window to save the unfortunate boy but they failed and the fire soon turned the room in which he was known to be into a seething furnace.  The outside blinds of the window had been kept locked to prevent the young man from jumping out in a spell of epilepsy.
The department was called from Box 24 and several streams were played on the fire.  It was quickly gotten under control. Chief Coyle and firemen got inside and located the charred remains of the dead boy, under a bed.  He had evidently tried to crawl under.  Coroner Kittinger was called and took charge.
The members of the family were prostrated by the death of a son and brother and were taken in charge by neighbors.  Part of the household effects were saved but the house was practically destroyed. The loss is about $1500, covered by insurance.  The origin is not known but is believed to have been with a chimney."