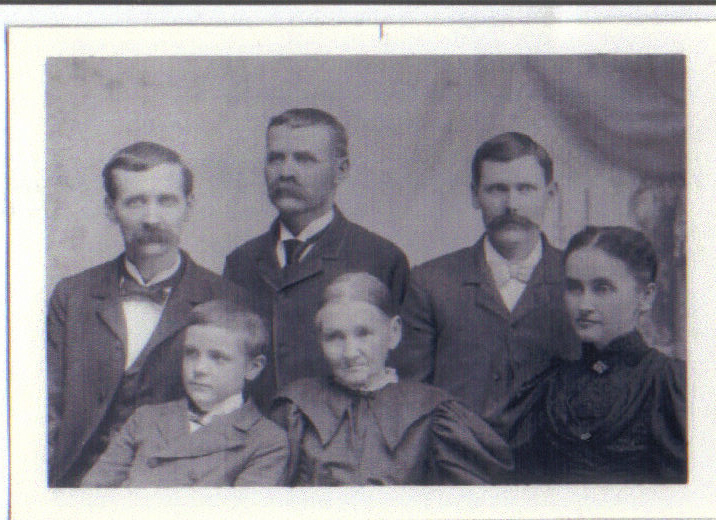 The woman in the front center is Rebecca White Campbell (Baker).  She was born 10 Mar 1821 in Indiana county, PA.  She lived to be 88.
I have a lot of information on her.
Census records.  Her gravestone.  Numerous affadavits and paperwork from her widow's pension for her husband, James Baker's service during the Civil War.  I know that she had a wooden leg later in her life.
But there is a mystery surrounding her.  I'm hoping that when I make my journey through PA this May, I will be able to solve it – at least in part.
What has intrigued me for years is the following church record, which was printed in the local newspaper in one of their historical editions.:
"Rebecca Campbell a member of this church guilty in the crime of fornication appeared before the session, acknowledged her sin and professed deep repentance" whereupon it was "resolved to restore her to her standing in the church and that notice of her sin be read out before the congregation." (Dated 1842)
She had a daughter named Caroline, born in 1840 (when she was 19).  She didn't marry James Baker until 1846.  Her daughter is listed as Caroline Park in the 1850 and 1860 census records.  In Caroline's obituary, James and Rebecca are listed as her parents though.
I think that the reason this interests me so much is that things like this make our ancestors more real.  Humans who make mistakes.
What I'm wondering is who was the father of her baby?  Why didn't he marry her?  Did he also have to acknowledge his sins before the church?  In a small community, I'm sure everyone already knew her business.  But it still would have been hard to get up in front of everyone and announce what she had done. Was she not allowed to attend church during the 2 yrs between her daughter's birth and when she acknowledged her sins?
I am hoping that I can glean some more info from the Gilgal Church records at the local genealogy library.  If I sift through them, maybe I can solve this mystery and learn a little more about what her early life was like.
But what am I going to do with my husband and kids while I'm looking?  Maybe I'll have to send them down the street to the Jimmy Stewart Museum. 🙂