My madness for this Monday is John Robertson. Yet another plain Jane name.  Yet another brick wall.
Here is what I know about him:
10 March 1804  Born in Kentucky (but where in KY, I have NO idea)
20 Jan 1831  Married Abigail Cowen in KY (again, I don't know where in KY.  The date was given to me by another family member and I have no actual proof of this).
2 Feb 1832  His daughter, Mary Frances Robertson is born in KY.
5 Nov 1833  His daughter Rachel Ann Robertson is born in KY.
Abt. Apr 1836 His son Hugh M. Robertson is born in KY.
8 Jul 1838  His son (my ancestor) Alexander Cower Robertson is born in KY.
22 Jul 1838  His wife, Abigail Cowen Robertson dies after the birth of her child, Alexander.
Fall 1848  Moved from Kentucky to Knox County, Ohio.  (According to the History of Washington county)
30 Jul 1850  Living in Clinton Twp, Knox Co., Ohio with a Mary S. Robertson (presumably his wife) and children and a man whom I think is his brother (Robert Robertson)  They are all listed as being born in Kentucky.
Spring 1860  Moved from Ohio to Louisa Co, IA
13 Jul 1860  Living in Morning Sun Twp, Louisa Co., Iowa.  He and his family (and Robert Robertson again) were living with the family of William Linn , who was married to his daughter Rachel.
Fall 1860  Moved from Louisa County, IA to Washington County.
12 Jul 1863  His son Hugh is killed during the Civil War.  He has a gravestone in Woodlawn Cemetery, Washington Co., IA.
1 Aug 1867  Mary S. Robertson (presumably his 2nd wife) dies and is buried in Woodlawn Cemetery, Washington Co., IA.
March 1870  His daughter, Rachel Ann Linn, dies in childbirth in Louisa County, IA.
2 Sep 1870  Living in Franklin Twp, Washington Co., Iowa.  His daughter with her child, and his son with his wife and children were living with him.
26 Feb 1879  He died  and is buried in Woodlawn Cemetery, Washington County, Iowa.
Please somebody smack me for taking  pictures of this gravestone with a huge shadow on them – presumably a shadow of me.  What on earth was I thinking??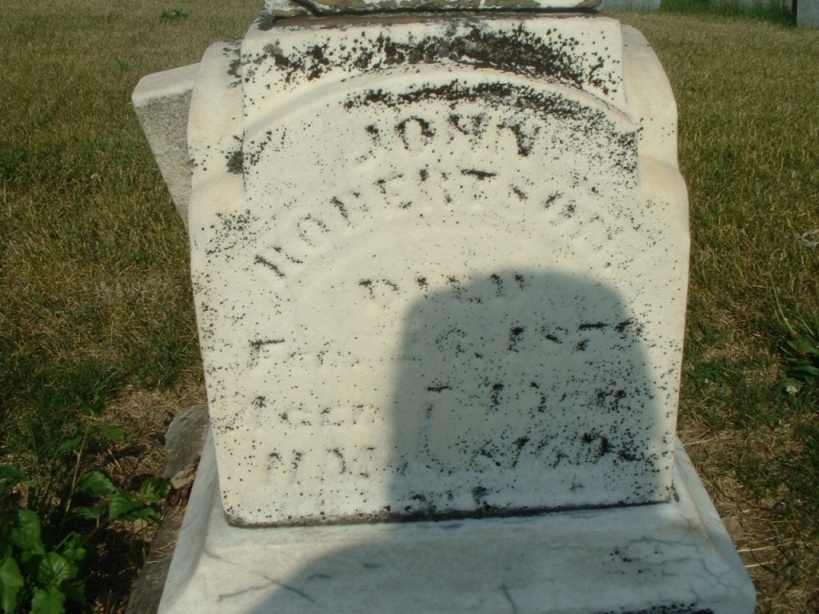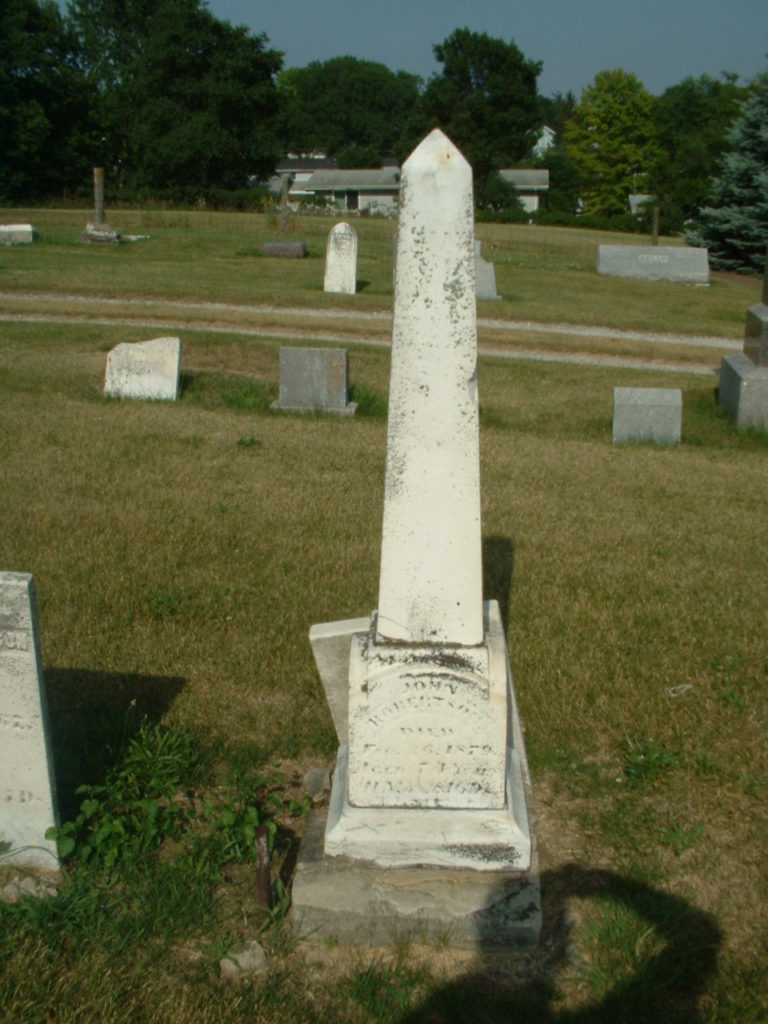 I guess that the first thing I am dying to know is where in Kentucky were they from??  I need to sit down one night (after everyone has gone to bed) and go through the hundreds of John Robertsons in the 1840 census to see which families are possible matches.  I just haven't done that yet.
It's a bit daunting, but not as bad as it was 10 years ago when my internet connection was appalling and I had to wait forever for each page to come up.  How on earth did I ever survive??
Once I can place them in a specific county, I think that I will have an easier time trying to figure out who John and Abigail's parents were.  And who his second wife, Mary was.
Any other ideas on where I might find out what county they lived in??