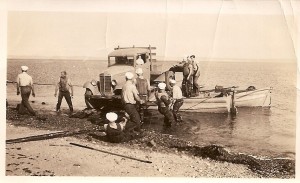 This picture belonged to my grandfather, Donald Sanchez, who served in the Coast Guard.
I am not sure if he is in this picture or not.  It wasn't labeled and it's hard to ID anyone from their back.
I am curious as to what on earth they are doing.  It looks like the truck was maybe transported across two small boats.  Seems very odd to me.