I feel like I'm being led on a wild goose chase.  And the goose is starting to fly away!
I can't be the only person that has ever run into this problem.
I have an ancestor that served in the Army during the Civil War.
According to his gravestone, he served in Co. G 9th Michigan Infantry: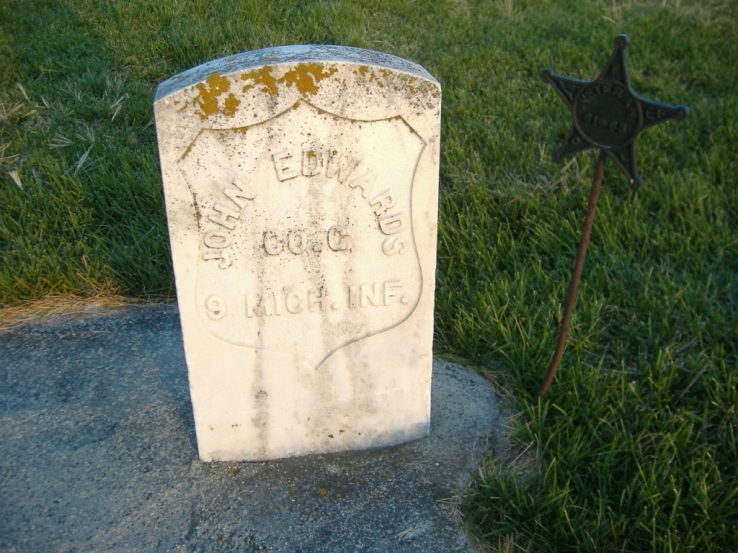 He was born in 1848 in Canada.  He then lived in Michigan and finally in Crawford County, Iowa.  That is where he died and is buried.
I have no idea if he received a pension or not.  He was 82 when he died, so chances are he had something wrong with him that he tried to get  a pension for.
I have not found him in the Civil War Pension Index: General Index to Pension Files, 1861-1934. He has a pretty common name though, making it hard to tell if he is there or not.
I went to the National Archives website and attempted to order his pension record through their online service.
When I click "order", I get a message stating that the NARA doesn't have the records I'm looking for.  Civil War pension records were closed out in 1929 – and John Edwards died on 3 May 1931.
They directed me to the Department of Veterans Affairs website. (And if he died in 1931 and the above-mentioned index is dated 1934 – would he be in there or not?  They said that they didn't have records past 1929.  I'm so confused!)
I proceeded to read through their information and tried to figure out how to order the records I was seeking.  I ended up just emailing them with my question, hoping that they could help me.
I got a very timely answer from them, but it wasn't what I was hoping  for:
We thank you for your inquiry. We are uncertain as to why the National Archives referred you to the Department of Veterans Affairs as we do not keep military records or pension packets for deceased Veterans of the era you are referring. The Department of Veterans Affairs does not maintain records of Veterans' military service, except as necessary for providing benefits from VA. We apologize for the inconvenience.

To obtain a copy of military service records and/or Official Military Personnel File (DD-214, OMPFs), please visit the web site for the Military Personnel Records Center (MPRC) in St. Louis, which is part of the National Archives and Records Administration (NARA).
So, now I need to make a phone call (or email query) to the MPRC to see if they might have what I'm looking for.  After browsing their website though, I'm not very enthusiastic.  I don't think that they have pension records – just military records.
Has anyone else ever run into this problem?  Did you ever find your ancestor's records?  Is this a lost cause?
I'll let you know what I find out from the Records Center in St. Louis.  Hopefully they've got some good news for me!
UPDATE:
I emailed the National Archives and they were quick with this response:
We apologize for the inconvenience and the confusion; however, the records you are looking for should be housed with the National Archives in Washington D.C. Therefore we are sending your request to them. Sincerely, Customer Service Center